Now in Poland, Fracking vs. the Environment
Environmental rules slow drilling in Poland's largest reserves
by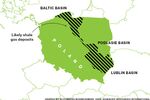 Poland's path to energy independence through shale gas is being delayed by skylarks, red kites, and local farmers hesitant to grant access to their land. The nation has enough of the fuel to last at least 50 years and free it from dependence on Russia, the Polish Geological Institute reports. Exploiting the deposits will require the government to allay concerns of environmentalists and the tourism industry that hydraulic fracturing will pollute their water. "People in the region have emotional ties to their land, which they've owned for generations," says Malgorzata Klawiter, the official who deals with shale gas issues for the region of Pomerania. "For them, the value of an old home with a shack and surrounding land is much higher than any market estimate."
Much of the gas lies more than 3 miles below the nature reserves and winding roads that link rural villages in the north of the country. Explorers including ConocoPhillips, Chevron, and Polish gas company Polskie Górnictwo Naftowe i Gazownictwo (PGNiG) may spend $4.5 billion this decade sinking wells to tap it. The Environment Ministry, which has been trying to simplify rules governing shale gas production, expects companies to drill 39 wells this year, more than double the annual average over the previous 30 months.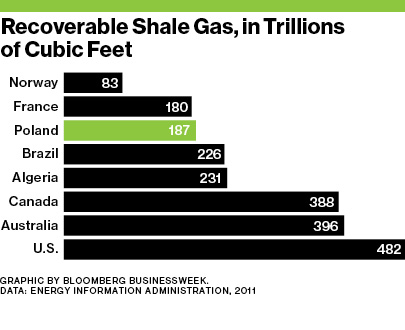 There's no commercial shale gas production in Poland yet—drillers are still at the exploration stage—and estimates of Poland's reserves vary widely. According to a 2011 U.S. Energy Information Administration estimate, the country has Europe's largest recoverable reserves of shale gas—187 trillion cubic feet, 33 percent more than those of the Marcellus Shale in the U.S. The Polish Geological Institute said last March the nation's deposits are probably as much as 27 trillion cubic feet.
In fracking, companies blast thousands of gallons of water, sand, and chemicals deep underground to break up rock formations and free oil and gas. Homeowners in Pennsylvania, Texas, and Wyoming have complained that their well water was contaminated with chemicals or methane gas from nearby wells. France, the Netherlands, the Czech Republic, Bulgaria, and part of Germany have restrictions on hydraulic fracturing.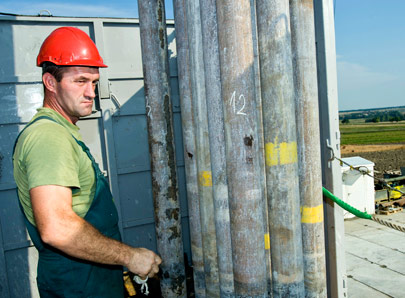 Last year about 25 percent fewer wells were completed in Poland than forecast by the ministry because some projects were held up by required environmental studies and other rules. It took PGNiG almost a year to be able to start drilling horizontally from its Lubocino well northeast of Bytów, a town of 17,000 founded in the 12th century. The plans were delayed after two protected bird species—red kites and skylarks—were seen in the area. The company had to perform additional environmental studies before a permit was granted. As a result, fracking began only last month. In response to such cases, the Polish government decided to simplify rules aimed at protecting rare species, which had required companies to seek new permits anytime they want to drill more deeply or in a different direction than originally planned.
In August a tanker truck contracted by California-based BNK Petroleum to move drilling liquids between two sites overturned in a traffic circle near Bytów, releasing 424 cubic feet of drilling mud into a river, the company reports. While there were no injuries or environmental damage, the fluid, used to help boreholes go deeper into the ground, contains a potentially hazardous biocide.
The accident highlighted the risk to the environment and the lives of those dependent on the land, says Malgorzata Nowotnik, owner of a farm and agrotourism business in Pomysk, a village in Pomerania, and a secretary of a regional agrotourism association. Although no drilling is allowed on her farm, which is protected by the European Union's Natura 2000 biodiversity program that covers 19 percent of Poland, Nowotnik says she's concerned about potential water contamination. "Exploration has just begun, and the mud has already spilled," she said in a September interview with Bloomberg. "What will happen when the scale is much bigger? You can control single wells, but not hundreds or thousands of them."
Before it's here, it's on the Bloomberg Terminal.
LEARN MORE