In China: Valentine's Day and the Business of Marriage
Christina Larson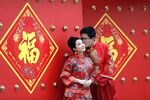 The Western holidays that generate the most attention in China are those that lend themselves to shopping trips—for candy, cards, clothing, and costumes. Thus, Halloween and Valentine's Day are big events.
This year, Valentine's Day falls on the final day of the Chinese Lunar New Year, the annual festival when most of the country is officially off work and en route to visit family. That includes Beijing's Civil Affairs Bureau—depriving lovebirds of the opportunity of filing wedding registration documents auspiciously dated Feb. 14. (Last year about 4,000 Beijing couples married on that day.)
Chinese sweethearts have a distinctly practical side. A survey released last month from leading online dating portal Baihe.com, based on reader feedback, paints a picture of what young Chinese people say they're looking for in a potential spouse. The most sought-after trait, according to both male and female respondents: stability.
Hence, although their smiling images often grace ads for Air China, China Southern Airlines, and other leading airlines, flight attendants—alongside actresses and tour guides—were ranked by men as among the least desirable women to marry. Men also ranked female reporters negatively, as journalism is a profession that is both low-paid and risky in China. Women, meanwhile, indicated they were inclined to snub both farmers (low wages) and entrepreneurs (too unstable). Some exceptions may be made, of course, for China's already well-established self-made millionaires.
When it came to a potential spouse's paycheck, more wasn't always better—if you're a man. Sixty-two percent of men said they would not consider a woman who earned as much as, or more than, he did.
One 25-year-old woman in Guangzhou, who has just recently started dating her first serious boyfriend, a colleague in a different department at work, said her beau may not be the most exciting or attractive, but more important: "He is very intelligent and disciplined, which I like. I think we can have a comfortable life together."
Before it's here, it's on the Bloomberg Terminal.
LEARN MORE