Charlie Rose Talks to Dick Cheney
By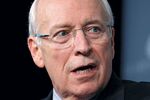 Someone said to me that, since you received your heart transplant last year, you're a new man. That you're mellow, less strident. Is this true?
My family's accused me of being downright chatty on occasion. I don't sense that I'm a different personality. A lot of people want to know, "Did your new heart change your political views?" I went from end-stage heart failure, near death, to a new heart. I wake up every morning with a smile on my face in anticipation of a day I never expected to see.
 
You were in Wyoming last weekend, and you talked about Obama's new team being "second-rate." What issues stand out for you?
I'm very concerned about what I see happening in the national security arena. I think the administration's policies are terribly flawed. I think the damage we're doing to the Defense Department is enormous with the sequester. I think the president's performance in the international arena, the Middle East and so forth, is worse than many of my friends and colleagues deem his domestic policies. I see him headed for the exits in the Middle East. We're getting out of Iraq … getting out of Afghanistan as quickly as he can. We're jawboning the Iranians on their nuclear program, but at the same time we withdraw one of our carriers from the Persian Gulf.
 
So you've got problems with Obama's policies—and his nominations of Chuck Hagel and John Brennan.
With respect to Hagel and Brennan, just in the last week their performances in front of the committees that have to confirm them have been pretty poor. And that's not my judgment. That's the judgment of senators on both sides of the aisle. When I think of a secretary of defense for a Democratic administration … Sam Nunn. He's a tremendous talent, enormous experience. Chuck doesn't have those credentials. He doesn't have that stature. I think [Obama] wants a Republican to be the foil, if you will, for what he wants to do to the Defense Department, which is to do serious damage to our military capabilities.
 
If you were in the Senate, would you vote against confirming Hagel?
I would.
 
Would you put a hold on his nomination?
I'd try to.
 
Brennan discussed drones at his confirmation hearing, which some see as a continuation of Bush policies. How do you see it?
Well, I like the drone program. When we came in we had the drones as intelligence platforms. They were unarmed. It was about the time of 9/11, or shortly before that, that we began to arm the drones. I think it's a good program. And I don't disagree with the basic policy that the Obama administration has pursued. I'd put a caveat on there. I don't think they have the capacity at this point to capture al-Qaeda individuals and develop them as intelligence sources. My impression is, they're using the drones as aggressively as they do because they've given up the capacity to capture and interrogate high-value detainees.
 
With enhanced interrogation, why don't we call it what many people think it is—torture?
Because it's not. We went through a long, difficult, and elaborate process with the Justice Department before we started the enhanced interrogation program, saying, "Tell us where the red line is."
 
Should waterboarding be employed when national security's at stake?
Absolutely … 9/11 was the worst attack in our history, worse than Pearl Harbor. It was our job to make certain it didn't happen again. The question I think you've got to answer is, how many people do you want to let die so that you don't offend your values?
 
There's a growing sense that the Republican Party has to change. Eric Cantor's saying it. So are Marco Rubio, Paul Ryan, and Bobby Jindal. Would you agree?
I'm not one of those who believe our philosophy is fundamentally flawed. Democrats love to tell us, "If you guys would just be like us, you'd win elections." One of the low points in my career was … on the morning after the '76 election. Gerald Ford had lost his voice. I had to get on the phone and read the president's concession statement to Jimmy Carter. That hurt. But it also was the beginning of what became the Reagan revolution. We're going through one of those same cycles now. What I worry about is that Barack Obama's more competent than Jimmy Carter was and is doing more damage.
BOTTOM LINE -
Watch Charlie Rose on Bloomberg TV weeknights at 7 p.m. and 10 p.m. ET.
Before it's here, it's on the Bloomberg Terminal.
LEARN MORE