Celebrity Charity Auctions: Six Winners' Stories
Inside the strange world of online celebrity charity auctions
Rebecca Milzoff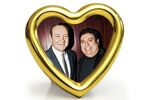 What do you really get when you win a meet-a-celebrity charity auction? It's easier than ever to find out. Last July, Matthew Pohlson and Ryan Cummins founded Omaze, an online celebrity auction site that aims to democratize the process with a small-donor approach: Anyone can buy a ticket for five bucks, and the winner is picked in a random lottery. Omaze joins Charitybuzz, the first major online celebrity auction site; founded in 2005, it uses a more standard model—the highest bidder wins. Charitybuzz has more than 75,000 registered bidders. Also in the game is EBay Celebrity, which began in late 2011 as part of the megaportal's charitable platform, GivingWorks. On Omaze and Charitybuzz, 80 percent of proceeds from the auctions goes to the appointed charity, and 20 percent goes to the company to cover its own costs. EBay donates everything but a small PayPal fee.
Do the meetings live up to the hype? Six winners share their stories of celeb close encounters.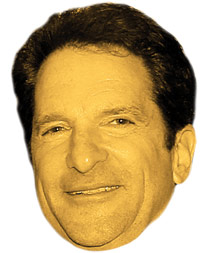 Get a meal with Mandalay Entertainment CEO Peter Guber
Winners: Scott Steuber, commercial real estate broker at Cushman & Wakefield, and Travis Heard, director of business development at Brand Sense Partners, Los Angeles
Site: Omaze
Paid: Free—a friend, who paid about $50, gave it to them
 
Scott: A close friend of mine won the prize and wasn't able to go, so he gave it to me as a gift. I'm L.A. born and bred and a huge Dodgers fan. We met at Wolfgang Puck's restaurant at the Hotel Bel-Air. I actually thought there'd be a few more people there, but it ended up being a very intimate experience, which was a pleasant surprise.
Travis: I expected we'd have some very superficial conversation and then move on, feeling welcome, of course, but not digging in. But he was very warm and open and also extremely focused, which is rare in day-to-day interactions, let alone meeting someone who runs studios and owns major sports franchises.
Scott: He spoke about some of his past successes, how his career began, some major milestones from his early start all the way to now. He allowed us to ask some questions, things about our careers, to get some specific advice from him. I was expecting these big lessons you've kind of heard before, like "Show up, work hard," those kind of things, but he got pretty granular.
Travis: He turned off his phone and only looked at it when he was showing us a couple photos. We had his full attention.
Scott: It was so refreshing.
Travis: He ended up sitting with us for close to two hours. He was, like, "What do you want to do, where do you want to be?" There was a little bit of mentoring.
Scott: He even went off the record a couple times.
 
Visit the set of It's Always Sunny in Philadelphia
Winner: Jimmy Stutz, Internet marketing partner, Phoenix
Site: Omaze
Paid: $25
 


We went down to the set and walked into where they film the Paddy's pub scenes. The cast was rehearsing. Rob McElhenney looked over at me, because I was wearing this shirt—there's an It's Always Sunny episode where one character has a dream about a denim chicken, and my shirt said "denim chicken." Rob started laughing and showed Charlie Day, and they came over and started talking to me. So right away it was, like, cool, awesome. They were way stoked to just have us there. We took pictures with the whole gang, watched them rehearse, and had lunch with everyone. We got to sit in the chairs with the actors' names on them and watch them act. It was crazy to see how many takes they did, and how the story line developed into something so much funnier than when it began. We were there for a long, long time—probably over eight hours.
 
Spend the day with Rachel Zoe
Winners: Erica Hanks, fashion stylist, and Ryan Hanks, chief information officer of Trade Street Residential, Charlotte
Site: EBay Celebrity
Paid: Will not disclose
 


Erica: I was given a tour of Rachel's offices and met a lot of people in charge of her jewelry and accessories lines. Joey Maalouf, her makeup artist, did my hair and makeup. He was so delightful. He was, like, "Oh, Rachel's gonna love you." After that, we went to meet Rachel and Rodger [Berman, Zoe's husband] for lunch at Soho House in West Hollywood.
Ryan: Rachel and Erica immediately hit it off; they have very similar tastes. Rodger and I chatted the entire time.
Erica: Rachel and I talked about kids, style, her favorite designers, where we like to shop. At one point, I forgot who I was sitting next to and ate a piece of asparagus off her plate!
Ryan: It was probably four or five hours. I think we even thought about hanging out afterward. Rodger was, like, "Jesus, if you guys lived here we'd be hanging out all the time."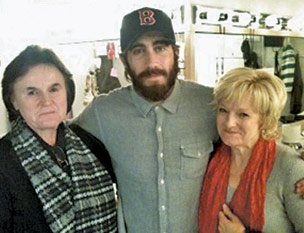 Hang out backstage with Jake Gyllenhaal
Winner: Linda Boileau, political cartoonist at the State Journal, Lexington, Ky.
Site: Charitybuzz
Paid: Will not disclose
 
I'm a fan of Jake's and was looking around online for what was going on with him. I knew he was doing a play, If There Is I Haven't Found It Yet, and came across Charitybuzz offering tickets to see it and do a meet-and-greet with him. I won, so they told me when I got to the theater I should call, and he'd come take me backstage. Jake was just wonderful. He's so kind, not egotistical. I knew he had dogs, so I did a caricature of his dogs. He was really interested that I was a cartoonist. We went back to his dressing room and just talked, sat for about half an hour. We talked about his dogs and the play and Kentucky, where I'm from. He didn't rush through anything. I didn't ask him any personal questions—I didn't want to seem goofy. I wasn't thinking it would be hours of walking around the city or anything. He grew a really big beard for the play and had long hair, but he's still a really nice-looking guy.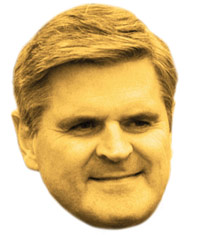 Have a power lunch with AOL co-founder Steve Case
Winner: John Boaz, chief executive officer of Reliant Home Health, Allen, Tex.
Site: Charitybuzz
Paid: $7,500
 
I met with Steve at his firm in D.C. They provided lunch. He was very cordial, but it was obvious I was taking him away from everything else he wanted to be doing. It was really awkward. I have an icebreaker story I usually tell, and there was no time for that. I said, "Do you mind if I just start asking you questions?" I told him about an Internet startup I'm planning on launching next month. I said, "Here's the model—what do you think about it?" And then for an hour I got to have the smartest guy in the world tell me what he thinks of my business idea. It was not at all what I thought I was getting into when I bid on the lunch. It was amazing that he took the time to listen. He wasn't gazing at the ceiling; he made eye contact and gave great feedback. The big nugget I took away: I'd identified maybe eight different customer types, and he said, "Quit trying to be all things to all people. Try and do one thing extremely well instead of 10 things OK." I took three pages of notes, brought them back to Dallas, and we implemented three or four of his ideas. I've bid on other auctions since then. My wife loves The Bachelorette, and I won a pass for her and my daughter to go to The Men Tell All episode screening. I was husband of the year.
 
Meet Kevin Spacey at the House of Cards première
Winner: Marcelo Pevida, retired NYPD officer and part owner of Grimaldi's pizzeria, New York
Site: Charitybuzz
Paid: $2,000
 


When we arrived at the première, we went past all the paparazzi, and everyone stared, and I waved. After the screening of the show, we went outside where they were serving hors d'oeuvres and drinks. Then I got a text to meet Kevin's publicist, and we went to meet Kevin. They had a little VIP section reserved for him, and they just brought us into his area. He was a true gentleman, and believe me, I've met some celebrities who are total a-holes. He took six photos with us and asked where I was from and what I did. I got hurt in 9/11, and we ended up talking about that, and he thanked me for my service. We talked about the series, and he said it's going to be excellent, and you know what? I believe him. I don't think he was BS'ing. He can eat free pizza in my joint anytime. Can I call him for a loan tomorrow? I think so. Can he call me? Sure.
Before it's here, it's on the Bloomberg Terminal.
LEARN MORE