Bloomberg View: Pope Benedict XVI's Noble Departure
In a changing world, the Catholic Church needs a strong manager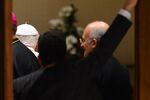 Pope Benedict XVI's decision to step down as the leader of the Roman Catholic Church was fittingly unexpected, coming from a man who has long defied easy categorization. It was also a brave step at a time when the Catholic Church is facing an array of global challenges.
First, we applaud Benedict's courage in recognizing that he is simply no longer up to the job. He is 85 and, by his own admission, in failing strength, mentally and physically. The pope's successor, to be selected by the College of Cardinals, will have to guide a sprawling institution with more than 221,000 parishes, 412,000 priests, and a faith community of 1.2 billion, about 17 percent of the world's population. The church runs schools, hospitals, orphanages, soup kitchens, and clinics around the world—a vast network of social support, often offering help to the most desperate, that requires strong and nimble leadership.
Given all this, we hope the cardinals will consider a pope who is up to the sheer management challenge the institution presents. And we encourage them to consider candidates from the developing world, which is home to about 70 percent of Catholics and will probably present the church with its most formidable challenges in the years to come.
Finally, although it goes against the church's institutional nature, we hope the cardinals will select someone who has the courage to commit to greater transparency. So many of the ills that have afflicted the Vatican in recent years, from financial improprieties to the clerical sexual-abuse scandal, can be traced to a desire to conceal and to protect the church's reputation, no matter the human cost.
News coverage of the papal transition will surely focus on political issues, such as contraception, the ordination of women and married men, and the church's view of homosexuality. We'll leave those for others to hash out, along with Benedict's legacy. But we hope the cardinals will select a pope who can strengthen an institution that does much good in the world, and one who will have the courage to recognize—as Benedict just did—when change is necessary.
Before it's here, it's on the Bloomberg Terminal.
LEARN MORE