Six Held in Probe of New News Corp. Phone-Hacking Conspiracy
Erik Larson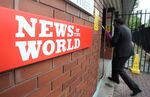 News Corp.'s phone-hacking scandal is widening after London police arrested six more former journalists at its now-defunct News of the World tabloid and uncovered a new conspiracy to intercept voice mail.
Three men and three women suspected of hacking phone messages in 2005 and 2006 were arrested today and some homes are being searched, the Metropolitan Police Service said in a statement. Two of the people arrested currently work at News Corp.'s other U.K. tabloid, the Sun, Britain's best-selling daily title.
Investigators "have identified a further suspected conspiracy to intercept telephone voice mails by a number of employees," police said in the statement. "Officers will be making contact with people they believe have been victims."
News Corp. Chairman Rupert Murdoch closed the News of the World in July 2011 in response to public anger over the scandal. Prosecutors overseeing criminal cases against Rebekah Brooks, the former chief executive officer of News Corp.'s U.K. publisher, and other ex-employees have said the title victimized more than 600 people between 2000 and 2006.
The group arrested today are between 33 and 45 years old, and were arrested at their homes around London and in Cheshire, England, police said, without identifying them or giving details of the conspiracy. Thirty-two people have been detained since the investigation started in January 2011.
This conspiracy differs in that the alleged hacking took place on the News of the World's features desk, while previous arrests related to its news desk, Sky News reported.
Sun Journalists
Dan McMillan, a spokesman for News Corp.'s U.K. unit, News International, said in a phone call that two of the people arrested today work at the Sun. He declined to comment further.
"It comes as no surprise that the lines of investigation are widening," Mark Lewis, a lawyer for some of the first-known victims of tabloid phone hacking, said in an e-mail. "There is a lot further to go, and ultimately this is a problem that will continue to have reverberations at the top of News Corp."
Lewis secured a settlement in 2011 from Murdoch and News Corp. totaling 3 million pounds ($4.7 million) for the family of murdered school girl Milly Dowler, whose phone messages were intercepted when she disappeared a decade ago.
News Corp. has settled about 200 civil phone-hacking lawsuits. It faces as many as 100 more as police continue to notify victims, lawyers said at a London court hearing last week. A parallel criminal trial for Brooks and others is scheduled for later this year.
The company formally apologized to victims including British actor Hugh Grant and Sarah Ferguson, the former wife of Prince Andrew, to resolve another batch of claims at the Feb. 8 hearing.
Before it's here, it's on the Bloomberg Terminal.
LEARN MORE