Olive Garden's New 'Modern' Black Uniforms
By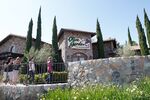 The worst thing about Olive Garden's uniforms, waiters complained, was the tie. Not only was the neckwear stuffy and uncomfortable, but also the fabric would invariably find its way onto oily, greasy surfaces. So, after a recent survey in which an overwhelming 97 percent of employees voiced their desire for "new dress standards," the restaurant chain obliged.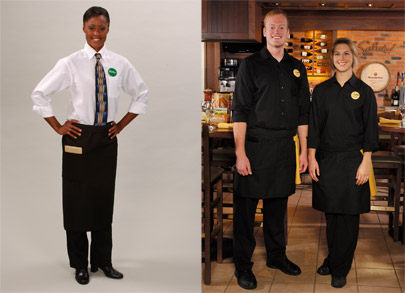 Today Olive Garden is ditching its traditional white liveries and embracing "Sprockets," introducing their new all-black, tie-less uniforms. This is the restaurant's first new look since its founding in 1982, says Dan Kiernan, Olive Garden's executive vice president for operations. "We've had some changes with the apron; we've adjusted our tie," he says. "But really we've had that white, button-up dress shirt with a tie since the beginning. We wanted a significant change, and black is obviously the opposite of white."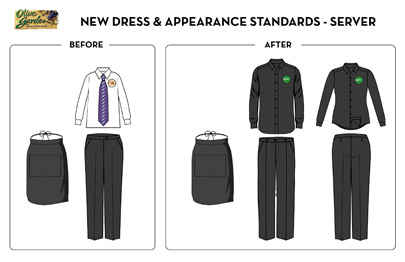 Servers will still wear collared shirts, but—according to the guidelines—"only the top button may be left unbuttoned" and the "shirt must be securely tucked in at all times." Hostesses will wear black dresses and skirts. "Everyone looks more dignified, classy, and clean," gushed one employee who tested the new threads. "We resemble a much more upscale dining establishment." A manager added: "The team members seem much happier and more themselves."
As for the impression the new uniforms will leave on diners, Jessica Morgan, founder of the fashion blog Go Fug Yourself, says, "People aren't going to Olive Garden looking for their waiters to be incredibly chic. People are going to Olive Garden for endless breadsticks and salad."
So much for a fashion statement. Whether or not diners notice the new look, one detail will likely not go unnoticed: Servers will be wearing big green buttons that read "Hospitaliano!"—a phrase Olive Garden made up to describe its "passion for 100 percent guest delight."
Before it's here, it's on the Bloomberg Terminal.
LEARN MORE