Chinese Workers—in Greenland?
A British company wants Chinese backing for an iron ore mine
by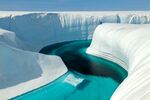 (An earlier version of this story ran online.)
China is growing. Greenland is melting. So it's only natural that thousands of Chinese workers may end up near the Arctic Circle to build a vast iron ore mine later this year.
Greenland, a Danish protectorate with a mostly Inuit population of 57,000, is courting foreign investors to tap mineral resources that have become more accessible as rising temperatures shrink the island's ice cap. In one of the most ambitious projects, London Mining wants to spend $2.3 billion to build a mine in southwestern Greenland that would tap a 1 billion-ton iron ore deposit—a project the company hopes will be financed and built mainly by the Chinese.
London Mining, which bought the deposit from Rio Tinto in 2005, already runs an iron ore mine in Sierra Leone and is seeking Chinese backing there as well. For the Greenland mine, it has talked with potential Chinese partners including state-owned Sichuan Xinye Mining Investment. The British company wants a partner to take an equity stake as well as provide financing, says Chief Executive Graeme Hossie. If a backer is found soon, the mine could open by 2015, producing 15 million tons of iron ore annually, he said. Greenland officials say most of the output would go to China.
Greenland's semi-autonomous government gained control over the island's natural resources after a 2008 referendum. It's eager to exploit its mineral wealth and reduce its dependence on aid from Denmark, which now provides 40 percent of the island's revenues. Greenland "is not a rich society," Prime Minister Kuupik Kleist told journalists recently. "We need to establish new, significant economic activities."
Greenland's parliament last year passed a law laying the groundwork for the opening of large mines, including procedures to allow in migrant workers. London Mining estimates that as many as 3,000 workers will be needed to build its mine: No more than 10 percent would be recruited locally.
Over the past three years, the government has granted more than 80 exploration licenses to mineral miners and oil majors including Chevron, ConocoPhillips, and Shell. Some stumbling blocks remain, though. Greenland's opposition Siumut party, which now holds nine of 31 seats in the island's parliament, has said it will scrap the new law on large mining projects if it wins scheduled parliamentary elections on March 12. Siumut leaders say they don't oppose mining, but are concerned that an influx of foreign workers could depress wages and disrupt the Inuits' way of life.
The government says it would require migrant workers to be paid at least the minimum wage on the island. Most foreign workers would live in isolated camps and would have little interaction with native Greenlanders, Kleist said.
Greenland has a ban on mining radioactive elements that could block some projects. An Australian company, Greenland Minerals & Energy, wants to mine a site containing one of the world's top two deposits of rare-earth elements, used in making computers and other high-tech items. The deposit contains 10.5 million tons of rare-earth metals and is valued at $6.6 billion. But it also contains uranium, so the project can't go forward while the government ban remains in place.
John Mair, executive director of Greenland Minerals & Energy, says he's optimistic the ban will be lifted soon. "Since the project has advanced and people understand its economic potential, it's being looked at differently," he says. The government is expected to complete an assessment of the project's health and safety implications within the next few weeks, and if no significant problems are identified, the ban could be lifted soon afterward, Mair says.
Rare-earth elements could make Greenland a diplomatic flashpoint. The European Union has urged Greenland to restrict Chinese development of rare-earth projects there, as China accounts for 95 percent of the world's current supply. The Greenland government has said that it has no plans to impose such restrictions. Paula Briscoe, an analyst at the Council on Foreign Relations in New York, warned in a recent paper that increased Chinese influence in Greenland "could help buy Beijing a proxy vote in Arctic matters." China's Arctic ambitions include fishing rights, natural resources, and shipping routes, she wrote. "If Greenland, lured by the promise of investments and earlier autonomy from Denmark, allows itself to be overwhelmed by foreign companies, then China could use its influence to Beijing's advantage."
Before it's here, it's on the Bloomberg Terminal.
LEARN MORE