Microsoft Loan Said to Help Dell While Avoiding Favorites
Dina Bass and Jeffrey McCracken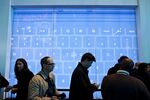 Microsoft Corp. is using a $2 billion loan to help finance Dell Inc.'s $24.4 billion buyout to bolster one of the largest makers of computers using Windows software and fend off competition from Google Inc. and Apple Inc.
Steve Ballmer, Microsoft's chief executive officer, discussed the loan with Dell founder and CEO Michael Dell, according to two people familiar with the negotiations. Microsoft opted for a loan rather than an equity investment to avoid rankling other personal-computer makers that use Windows, said one of the people, who asked not to be named because the matter isn't public.
Dell is going private as it seeks leeway to cut jobs and adopt strategy shifts needed to court high-margin customers spending billions on data centers. Microsoft, which counts on Dell to sell PCs and servers with its software, has a vested interest in boosting Dell's competitiveness without jeopardizing relationships with other partners such as Hewlett-Packard Co.
"Microsoft is taking a more neutral stance, not giving Dell a favored nation status among their PC partners," Jeffrey Fidacaro, an analyst at Monness Crespi Hardt & Co., said in an interview. "I was anticipating that they would get a preferred share or something structured, as opposed to a $2 billion loan. That gives them less of a presence and influence on the management after the deal."
'PC Ecosystem'
Microsoft's investment helps to support "the long term success of the entire PC ecosystem," the company said in a statement. Peter Wootton, a spokesman for Microsoft, declined to comment beyond the statement.
Microsoft won't be involved in day-to-day operations, Dell Chief Financial Officer Brian Gladden said in an interview.
Lazard Ltd. advised Microsoft on the transaction, one of the people said.
Taking a stake in Dell would have amplified a rift with PC makers that developed after Microsoft pushed into the hardware market in October with its first machine, a tablet called Surface, said Michael Gartenberg, an analyst at Gartner Inc. The loan may be a less worrisome alternative, he said.
"It's likely to be somewhat more palatable under those terms," he said. "There will still be some uneasiness until the full details of the relationship become clear in practice not just terms on paper."
Similar Path
Microsoft went down a similar path in 2011, when it announced a partnership agreement with handset manufacturer and Windows Phone licensee Nokia Oyj. Still, Microsoft maintains a close relationship with other Windows Phone sellers, including HTC Corp.
With the loan to Dell, Microsoft adds to a lengthening list of strategic investments in technology companies. The software maker has a stake in Facebook Inc. and invested $300 million in a Barnes & Noble Inc. subsidiary to focus on e-readers. It also invested $5 billion in 1999 into what was then AT&T Corp.
Microsoft invested $150 million in then-foundering Apple in 1997. The investment contributed to the very survival of Apple and helped put the company on the long path toward becoming the world's most valuable technology company.
Hewlett-Packard seized on Dell's buyout as an opportunity to seek new business, saying in a statement that its competitor faces "a tough road ahead."
"Leveraged buyouts tend to leave existing customers and innovation at the curb," Hewlett-Packard said. "We believe Dell's customers will now be eager to explore alternatives, and HP plans to take full advantage of that opportunity."
Dell's shares gained 1.1 percent to $13.42 at the close in New York, while Hewlett-Packard advanced 2.7 percent to $16.61 and Microsoft was little changed at $27.50.
Before it's here, it's on the Bloomberg Terminal.
LEARN MORE