Quiz: Are You a Davos Insider?
by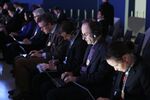 Whether it was the flu or the $20,000 price of admission that kept you from rubbing elbows with A-listers at the World Economic Forum this year, you can still prove your Davos chops. See if you can pick out the correct Davos conference themes from this list of competing titles.
 
 
1. Leadership in Fragile Times
A. Ph.D. dissertation on the debt ceiling negotiations
B. Davos 2002
C. Career-development program at Goldman Sachs
 
 
2. Conscious Capitalism
A. Seminal Marx and Engels tract
B. Davos 2003
C. Book by Whole Foods co-founder John Mackey
 
 
3. Waging Heavy Peace
A. Neil Young autobiography
B. Yale class taught by ex-U.K. Prime Minister Tony Blair
C. Davos 2005
 
 
4. The Creative Imperative
A. Crafty mom's blog
B. Abstract art exhibition at New York's Whitney Museum
C. Davos 2006
 
 
5. The ChangingPower Equation
A. Davos 2007
B. Pamphlet from California utility rolling out smart meters
C. SXSW panel on social media clout
 
 
6. The Rediscovery of Wonder
A. Theme of TED 2011
B. Child-rearing workshop
C. Davos 2008
 
 
7. Overexposed
A. Davos 2009
B. Maroon 5 album
C. Coffee-table book cataloging history of wardrobe malfunctions
 
 
8. Hope and Fear: The Future
A. Davos 2010
B. Career services seminar for class of 2014 grads
C. Theme of Burning Man 2006
 
 
9. Shared Normsfor the New Reality
A. Singles' event for foreign-policy buffs
B. Davos 2011
C. Memo notifying Morgan Stanley employees of changes to the bonus plan
 
 
10. Dynamic Resilience
A. One of Newton's laws of motion
B. Advanced pilates class
C. Davos 2013
Before it's here, it's on the Bloomberg Terminal.
LEARN MORE