Abandon Hope: An Elite Indian B-School's Wild Selectivity
by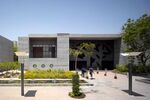 If you're pining to get into a selective MBA program and find the acceptance rates at Stanford (7 percent) and Harvard (13 percent) terrifying, here's some perspective: Not even 1 percent of applicants were admitted to India's top business school last year.
The Indian Institute of Management, Ahmedabad offered spots to only 0.25 percent of applicants for the 2012-14 academic period. Admission is based heavily on entrance exam scores. All applicants are required to take India's Common Application Test, or CAT. Those who were admitted and also took the U.S.-based GMAT out-tested business students the world over: The average GMAT score for IIMA students was 767, compared with 730 at Stanford's Graduate School of Business, the Times of India reported last month. Stanford is the most selective U.S. MBA program, according to Bloomberg Businessweek data.
"The fundamental entrance criteria [at IIMA] is academic excellence," says Nunzio Quacquarelli, director of the QS World MBA Tour, a series of events that regularly hosts Indian students applying to Indian, U.S., and European schools.
Context, however, is also important. IIMA received 173,866 applications, compared with 6,618 for Stanford's class of 2013. Quacquarelli also says most of the people he meets who are applying to any of India's Institutes of Management (there are 13) are domestic, around 23 years old, and have one to two years of work experience. Students entering Stanford GSB average 27 years old and have nearly five years of work experience, according to Businessweek data.
"India's population is so large, particularly among young people, it's easy for [IIMA] to have the luxury of making one huge cut" based on test scores, says Graham Richmond, co-founder of Clear Admit, an MBA admissions consulting firm.
While the CAT makes the task of rejecting 173,431 IIMA applicants somewhat easier, some question whether the process is the best predictor of business aptitude. Tushar Dublish, an undergrad computer science and engineering student at the Indian Institute of Technology, Mandi, doesn't plan on applying to IIMA and will instead shoot for Harvard Business School and the Yale School of Management, among other programs outside India. Dublish says the pressure of getting a high CAT score isn't what bothers him. It's that his CAT score alone—and not his background, achievements, leadership skills, and other qualities—may determine his fate.
Quacquarelli says test-centric admissions may also lead to less diversity. The vast majority of students at IIMA have engineering backgrounds, and the female student population is below that of other internationally recognized business schools, he says.
To distinguish himself from other Indian applicants to U.S. schools, Dublish plans to study abroad in Sweden. He is currently interning at an e-commerce startup, which he plans to follow with an internship at Microsoft in Hyderabad. He also wants to start his own company.
When Dublish explains his decision to forgo studying for the CAT and concentrate on broadening his experience, he sums it up this way: "Don't you think working on oneself is much better than working for an exam that you will forget in a couple of years?"
Join the discussion on the Bloomberg Businessweek Business School Forum, visit us on Facebook, and follow @BWbschools on Twitter.
Before it's here, it's on the Bloomberg Terminal.
LEARN MORE