How Slim-Fast Lost Out to Weight-Loss Rivals
The diet-in-a-can has been eclipsed by newer weight-loss fare
by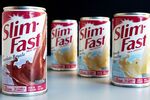 In 2000, Unilever acquired diet-drink maker Slim-Fast for $2.4 billion and had ambitions to increase its new unit's revenue fivefold in three years. Unfortunately for the Anglo-Dutch consumer-products giant, Slim-Fast's sales in the U.S., its biggest market, started to decline in 2003. Revenue has fallen 40 percent to $196 million since 2008, according to data trackers SymphonyIRI Group. Over the same four-year period, the global meal-replacement category has grown 27 percent, researcher Euromonitor International reports, with rivals including Kellogg's Special K line picking up the slack. "Kellogg did really well to launch their own [weight-control] products just when Slim-Fast had troubles," says Lee Linthicum, an analyst at Euromonitor.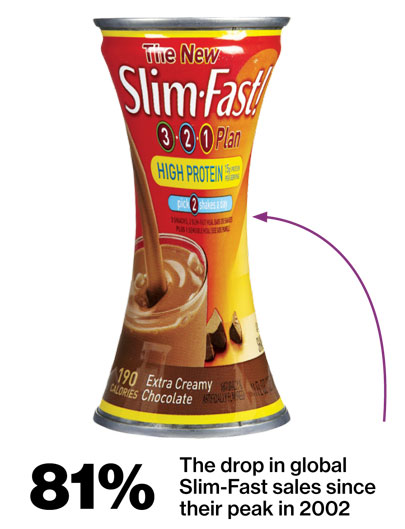 Kellogg, the biggest U.S. cereal maker, has expanded its brand into a bona fide diet plan that mirrors Slim-Fast, encouraging dieters to swap two meals a day with Special K cereal and bars. The company has added products such as water and flatbread breakfast sandwiches to the lineup—which has contributed to a 22 percent average annual sales increase for the Special K brand over the last five years, the company reports. "The quick crash diet is a thing of the past," says Mark Baynes, Kellogg's global chief marketing officer. "People are happy to be seen eating Special K. People might not be so happy to be seen walking around with Slim-Fast."
Unilever doesn't break out Slim-Fast's results, but it has seen sales growth at its refreshment business—where Slim-Fast is housed—fall behind the company as a whole. The brand now represents less than 1 percent of the company's 2012 sales of €51.3 billion ($68.3 billion), vs. about 2 percent of Unilever sales a decade ago. Slim-Fast has pulled out of France, and product innovation has slowed. The brand introduced seven new items last year, vs. 77 in 2005, according to market researcher Mintel.
Nowadays, even the word "diet" is becoming passé, Mintel has found, as consumers shift their focus from plan-in-a-can weight loss toward lifestyle changes that include eating fewer processed foods, exercising more, and getting more sleep. "It's a quick fix and not the right thing for me," says Melissa Wood, a 42-year-old marketing executive in Marlow, England, who has been on the diet twice. "The fake flavoring and sugar are not part of healthy living in the 21st century."
Slim-Fast has also missed out as dieting goes digital. Research firm Research2Guidance has estimated that 500 million people will be using health-related smartphone apps by 2015, and diet apps are among the most downloaded. Yet, despite pleas from its users on Slim-Fast's own message boards, Slim-Fast still has no smartphone app. In a survey in the February issue of Consumer Reports magazine, Slim-Fast ranked last in overall satisfaction among do-it-yourself diet plans, behind MyFitnessPal, the Paleo Diet, the Mediterranean Diet, and low-carb diets such as Atkins. Slim-Fast senior brand manager Wesley Boas, in an e-mailed statement, says change is ahead. "You can expect exciting changes coming soon," he writes. "The brand is making investments to ensure it meets the needs of the modern dieter."
Created in 1977 by New York native S. Daniel Abraham, Slim-Fast powder—mixed with low-fat milk—was designed to replace breakfast and lunch, complemented by a 600-calorie "sensible" dinner. Sales took off in 1988 when Los Angeles Dodgers manager Tommy Lasorda signed on as spokesman. Dieters connected to Lasorda, seeing in him a man not afraid to admit he had a weight problem, noted a 2001 study ("Your Loss Is My Gain: Marketing Weight Loss") by researchers at Texas A&M University. Through the 1990s, Slim-Fast fended off rivals by lowering the prices it charged to retailers, introducing items such as frozen entrees, and airing ubiquitous TV ads that promised, "Give us a week, we'll take off the weight!" Sales grew about 20 percent a year, hitting $611 million in 1999, with profits of $125 million.
The success attracted Unilever, which was eager to expand the brand outside North America—the region then accounted for more than 90 percent of Slim-Fast's sales—by plugging Slim-Fast into its global marketing and distribution system. Things didn't go as planned, as public attention shifted toward low-carb programs such as the Atkins and South Beach diets. After climbing to more than €1 billion in 2002, Slim-Fast sales plummeted 21 percent in 2003. In response, Unilever took about half of the sugar out of the product and rebranded it as Slim-Fast Optima, offering discounts to keep dieters from defecting. The damage was done, though, and in 2005 Unilever took two charges totaling €850 million to account for the decline in the value of the brand. Slim-Fast took another hit in 2009 when Unilever voluntarily recalled all cans of ready-to-drink products in the U.S. over concerns they may have been contaminated with bacteria that could cause food poisoning.
Given the 2005 writedowns and sales since, the Slim-Fast business today is worth a fraction of what Unilever paid for it, figures Sanford C. Bernstein analyst Andrew Wood. "Perhaps they are just letting it die quietly," Wood says. That isn't a happy prospect for Slim-Fast founder Abraham, who says he's offered to help "revitalize" the brand. "Unilever is sleeping on it," he says. "If I still owned it, it would not be that way. I would be fighting harder."
Before it's here, it's on the Bloomberg Terminal.
LEARN MORE