Detroit Housing's for Sale, and Global Investors Want In
Auctions of foreclosed homes attract overseas speculators
by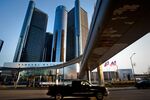 The Motor City may be synonymous with scorched-earth urban decay to many Americans, but the market for distressed real estate properties there is an exception. Speculators from the U.S. and abroad are scooping up Detroit homes, in some cases by the hundreds, for as little as $500 at Wayne County's tax-delinquent property auctions. The county sold 10,461 of the 18,897 Detroit properties offered last year, according to public records. "Detroit is the hottest thing happening," says city native Jasmine McMorris, who has purchased 332 homes in the past two years for an average price of $2,500. She's rented some at a profit while selling others to investors as far away as Australia and Cambodia. "No place else can I buy a house for $1,000 and put in $3,000 to fix it up and get a 40 percent return on my investment monthly," she says.
In markets such as Chicago, Miami, and Phoenix, Blackstone Group and other private equity firms have bought foreclosed houses and turned them into rental properties. In Detroit, the foreclosure problem is exacerbated by a large number of properties seized by the government to recoup unpaid tax bills, says Alan Mallach, senior fellow at the Center for Community Progress, an advocate for land reuse. Mass sales can exacerbate instability by attracting landlords who rent without maintaining homes or paying property taxes, Mallach says.
In 2011, 36.2 percent of Detroit residents lived below the poverty line, compared with 14.3 percent for the U.S., according to Census Bureau data. About one-quarter of the city's housing units are vacant, according to data in Detroit Future City, a 50-year strategy developed by the Detroit Works Project.
With an influx of buyers, property values are ticking higher, if a bit behind national averages. Not including tax sales, home prices in the city of Detroit in November were up 3.4 percent from a year earlier, compared with an 8.6 percent rise for the metro area and an average 4.8 percent increase for 30 U.S. metro areas during the same period, according to mortgage data firm FNC. Wayne County's chief deputy treasurer, David Szymanski, estimates some 20,000 county properties will be auctioned this year.
"There's going to be a big turnaround for Detroit, and I want to be part of it," says Peter Grosso of New York, who paid about $90,000 for 29 Detroit homes at an auction last October. He plans to rent them for income over the next decade, then sell at a profit.
Before it's here, it's on the Bloomberg Terminal.
LEARN MORE