China's Citizens Will Get a Say on Beijing Pollution
by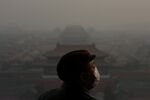 In another sign that Beijing officials are, for now, leaning toward openness, officials will allow the city's 20 million residents to weigh in on draft regulations aimed at curbing the Chinese capital's horrendous air pollution, according to a notice posted Jan. 20 on the Beijing municipal government website. The public can comment on the proposed new measures until Feb. 8, the day before China shuts down for the annual Chinese New Year festival, said the statement issued by the city's legal affairs office.
"This is important. Now public scrutiny should play a key role in promoting pollution control and enforcement of this rule," says Ma Jun, director of the Beijing-based Institute of Public and Environmental Affairs. Ma's environmental advocacy group plans to comment through the online platform that the municipal government has created for this purpose.
The announcement follows an unusually open reporting environment in recent days, with China's state-controlled newspapers publishing pieces critical of Beijing's efforts to curb pollution, and advocating for more transparency. "In [the] future, the government should publish truthful environmental data to the public. Let society participate in the process of solving the problem," wrote the English-language edition of the Global Times, which is owned by the People's Daily, the Party's official mouthpiece, on Jan. 14. "As long as the government changes its previous method of covering up the problems and instead publishes the facts, society will know who should be blamed."
Following more than a year of pressure from China's bold bloggers, environmental authorities only early last year started publicly reporting levels of so-called PM2.5 smog, the finer airborne particles that are most damaging to health. That reading reached a record 993 micrograms per cubic meter earlier this month in Beijing (over 25 is unhealthy, says the World Health Organization). In 2012, elevated PM2.5 levels contributed to 8,572 early deaths in Beijing, Shanghai, Guangzhou, and Xian, according to a study released by Greenpeace and Peking University's School of Public Health.
The draft rules include measures to shut factories and further limit the number of vehicles on the roads when pollution soars (Beijing has 5 million cars, a number that keeps growing). And fines could range from 50,000 yuan ($8,031) to 500,000 yuan ($80,310) for those who flout the new restrictions, said the official China Daily on Jan. 21. The draft law "requires authorities to forecast pollution levels, and take firm action," according to the government's English-language daily. The rules also ban certain high-polluting industries from opening in Beijing, such as iron and steel and building materials, says Ma Jun. Also key is a requirement that companies report their pollution emissions on their corporate websites. Ma says his organization will suggest that the data be compiled on one site to allow for easier public scrutiny. (He plans to do that through his institute as well.)
Progress won't be easy, however. China is blessed and cursed with the world's largest coal reserves, which means that the country sources some 80 percent of its electricity from burning coal—much of it lower quality and highly polluting. And a still strong tendency to skirt environmental regulations—or just pay fines but continue polluting—will likely bedevil efforts to clean up, says Ma. Li Keqiang, China's next premier, warned Jan. 16 that "it will be a long process to resolve environmental problems," reported the official Xinhua News Agency. "It's the implementation that's the challenge," adds Ma. "It's not like we just set the rules and all will be fixed."
"While the new draft law, issued by Beijing Environmental Protection Bureau, is broader in scope and calls for increased fines for those who violate it, it contains many of the same elements as the previous pollution prevention and control regulation issued in 2000, which was enforced lightly or not at all," warned the Global Times on Jan. 21. "New regulations intended to kick in when pollution in Beijing reaches extreme levels will likely be as ineffective as the previous law."
Before it's here, it's on the Bloomberg Terminal.
LEARN MORE