Business
Inside Pfizer's Fight Against Counterfeit Drugs
Pfizer has staff detectives to help ensure your Viagra is real—and not made of brick dust
By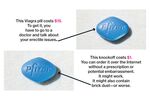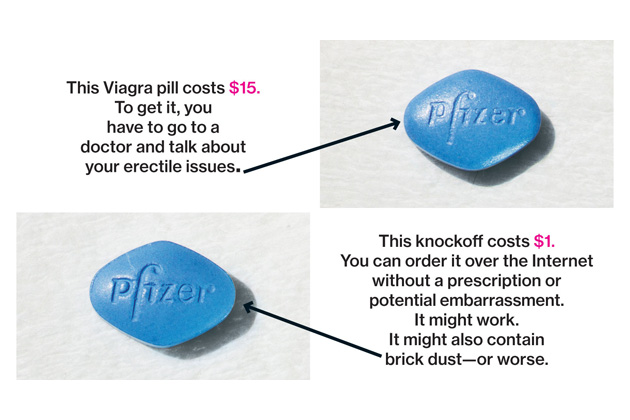 In the spring of 2011 an undercover agent with the U.S. Department of Homeland Security placed an order for some discount Viagra on hardtofindrx.com. The site promises low prices and fast delivery on drugs such as Klonopin and Valium, no prescription needed. About two weeks later, according to court documents, he got a package containing 67 blue, diamond-shaped pills. The return address read: B. Green, High Point, N.C.
Was it real? The best way for a federal agent to find out is to send it to Pfizer, the world's largest drug company and the maker of Viagra. When the package arrived at Pfizer's research and development campus in Groton, Conn., Brian Donnelly got to work.
Donnelly, 56, is director of Pfizer's global security team in the Americas. A pharmacist by training with a Ph.D. in pharmacology and toxicology, Donnelly is also a detective. For 21 years before joining Pfizer, he worked as a special agent for the FBI. Donnelly starts his tests in a brightly lit lab on the first floor of the research facility. On one side there's a secure area surrounded by a metal enclosure the size of a walk-in closet. Inside the cage, Donnelly's team of scientists slices up suspect drugs. They start by photographing a package's exterior. Then they scrutinize everything from the markings on the blister packs down to the color of the casings and the chemistry of the powder within.

Packages of phony Pfizer products arrive several times a week. The samples are sent in by cops working counterfeit cases and customs agents trying to figure out what they've sequestered. Within days, Pfizer's forensics team can give them answers. Bogus pills sometimes contain chalk, brick dust, paint, and even pesticides, says Pfizer Senior Scientist Amy Callanan. One notoriously repugnant batch of pills, originating in China and sold in South Korea, contained the remains of human fetuses. Sometimes the fakes actually work. Last year, Pfizer collected samples in Baltimore and Atlanta of "herbal" erectile dysfunction pills (with names like Stiff 4 Hours and Mojo Nights) sold over the counter at convenience stores and gas stations. Testing revealed that 81 percent of the "all natural" products contained either sildenafil citrate, the active pharmaceutical ingredient (API) in Viagra; tadalafil, the API in Cialis; or so-called designer drugs that are similar in chemical structure to the brand medications but untested in clinical trials. "You might be talking about 'Stiff 4 a Fortnight,' " says John Thomas, a scientist on Pfizer's forensics team.
Counterfeit drugs generated an estimated $75 billion in revenue in 2010, according to the National Association of Boards of Pharmacy. Unlike fake sunglasses, fake drugs can kill their purchasers. Each year upwards of 100,000 people around the world may die from substandard and counterfeit medications, according to a recent estimate by Amir Attaran of the University of Ottawa and Roger Bate of the American Enterprise Institute. To date, governments have struggled to safeguard the distribution of legitimate drugs and crack down on the fakes. In lieu of effective public policy, the pharmaceutical industry has chosen to fight back in private.
Donnelly's team noticed something about the package from North Carolina. The name of the sender, "B. Green," looked familiar. Sure enough, it matched an alias that had turned up before in a handful of investigations. The team sent a detailed report back to the feds. The Viagra pills they'd purchased from hardtofindrx.com were counterfeits. Donnelly informed the agents that his team had also received packages of pseudo-Viagra from B. Green.
Shortly after, according to court documents, the federal agents asked postal service investigators to look for any archival surveillance footage that might exist capturing "B. Green" mailing the packages. Within weeks, USPS officials came back with images of a suspect: a white male, about six feet tall, parking a red Ford F-150 pickup truck outside a post office in the small town of Trinity, N.C.
 
 
Within the pharmaceutical security trade, Pfizer has a reputation for fielding a brawny squad, though the company won't say how many detectives like Donnelly it employs. Every major drugmaker has its own such team, stocked with former law enforcement agents. The detectives routinely share information across corporate boundaries. They are an oasis of cooperation in a competitive industry. Donnelly collaborates on a regular basis with his counterpart at Eli Lilly (which sells Cialis), who also previously worked at the FBI. "We're going after the same people," says Donnelly.
Among counterfeiters, Viagra is a prize. It's the king of the erectile dysfunction market, racking up $1.04 billion in U.S. sales in 2011, according to IMS Health. It's been fighting off counterfeiters almost since its introduction in 1998, which happened to coincide with the rise of the Web. The combination of a desirable but potentially embarrassing product and a seemingly discreet way to buy it unleashed a monsoon of fakery. Pfizer's squad, says Donnelly, benefits consumers and protects the Viagra brand. In 2011, according to Kantar Media, Pfizer spent $85 million marketing Viagra on TV alone. But Viagra isn't the only target. According to company data, in 2010 authorities from 53 countries seized 8.4 million tablets, capsules, and vials of counterfeit Pfizer drugs ranging from Norvasc (for high blood pressure) to Zithromax (antibiotic) to Celebrex (arthritis). Some fake meds for serious ailments contain no active ingredients. Most fake Viagra, on the other hand, does. "That's because the person buying Viagra is looking for an endpoint," says Donnelly. "No endpoint, no resale."

Investigating dealers of counterfeit drugs is similar to investigating drug cartels. It's easy for detectives to jump out and catch the guys selling pills on the corner. It's much harder to catch the kingpins. There's one big difference, though. With cocaine, say, the whole supply chain—from farming to retailing—tends to be run by one cartel. With fake pharmaceuticals, the marketplace is open and alliances are constantly shifting. To get to the source, detectives typically start with small-time retailers and work their way up the supply chain.
Most purchases begin online. A consumer searches for "discount Viagra" and clicks on a link offering low-cost versions. At a traditional pharmacy, Viagra sells for $15 or so a tablet. Fakes online cost as little as $1 per. The e-retailers, which Donnelly calls "affiliate sites," are often designed to suggest a bustling operation based on a real clinic. When a consumer places an order on an affiliate site, he's handed off to what Donnelly calls a "core site," which pays the marketers for referrals. A core site may work with hundreds of affiliates. To fill an order, the core operator turns to a network of suppliers. Most of these, says Donnelly, are based in India and China, often alongside the factories making legitimate drugs. There are businesses, says Donnelly, that make the API; others manufacture the pills or specialize in packaging.
Suppliers can often be found on business-to-business manufacturing sites like Alibaba.com. A search for "sildenafil," Viagra's API, returns dozens of results. A Chinese business called Zhengzhou Debao Fine Chemical, for instance, advertises bulk "man sex powder sildenafil citrate" for $80 to $100 a kilogram with a 1kg minimum. A kilo of sildenafil is enough to make 10,000 100-milligram Viagra pills.
One of the challenges for counterfeit dealers is getting the drugs to their U.S. customers. Distributors often send the pills through the Express Mail Service (EMS), a cooperative service that includes the postal services of more than 150 countries. The advantage of EMS (vs., say, FedEx) is that its immense volume of packages improves the odds that a shipment will avoid close inspection. Despite the precaution, some shipments inevitably catch the attention of U.S. customs agents. When a package gets held, the agents send a letter to the shipment's recipient.
Successful counterfeit operations rely on repeat customers. For a skittish consumer hoping the discount erectile dysfunction drug that he ordered online will (a) show up, (b) work, (c) not poison him, and (d) not get him arrested, a letter from U.S. Customs and Border Protection arrives with all the stimulative effect of an IRS audit. The odds of a repeat purchase plummet.
As a result, distributors don't ship directly to customers. Rather, they recruit individuals in the U.S. to be regional distributors, known as drop shippers. The drop shippers receive bulk deliveries from overseas and divide them up into individual orders. There are two advantages to this system. The customer receives a package with a U.S. return address, which may be more reassuring than a package of drugs fresh from Wuhan. And, if customs investigates a package at the border, the resulting notification letter is sent to the drop shipper—not to the customer—and the risk of scaring off a client vanishes.
But drop shippers are vulnerable to investigators such as Donnelly. They handle a lot of product, communicate repeatedly with distributors—often generating a trove of electronic correspondence susceptible to seizure—and are located within reach of U.S. law enforcement. Sometimes, to make extra money, drop shippers will open a side business selling counterfeits on Craigslist, further exposing themselves. Investigate a sufficient number of drop shippers, says Donnelly, and the trail leads back to their suppliers, the big dealers overseas. "You never know where some of these low ones will take you," he says. "And with a little bit of luck, you can marry them all up at the end."

In theory, a counterfeit network's "fingerprint" can be found in the chemistry of the pills. Unfortunately, says Donnelly, pill composition frequently varies from batch to batch, making it difficult to establish a "signature" that would stand up in court. But in 2008, Donnelly says, his team detected a telltale pattern in the packaging of a range of drop shippers. Once identified, the fingerprint was unmistakable (Pfizer's forensics team declines for "security reasons" to publicly disclose specifics). The team arranged a sitdown in Los Angeles with other drug company security forces and federal investigators. "Basically, it was an I'll-show-you-mine-if-you-show-me-yours type thing," says Donnelly. "We made all the connections. They started an investigation."
 
 
On Sept. 30, 2009, not long after the meeting in L.A., armed federal agents burst into a two-story, green stucco home in a suburb of San Juan, Puerto Rico. Inside, the agents found more than 100,000 doses of prescription medication. Lab results would later show that the supply included counterfeit Viagra, Cialis, Valium, Xanax, and Lipitor, and was worth an estimated $1 million.
The owner of the house, Francis Ortiz Gonzalez, sat at his dining room table answering detectives' questions while U.S. agents photographed the scene, confiscated a PC, and searched a BMW outside. In addition to the meds, the agents found a pill counter, extensive packaging material, and $8,000 in cash. Gonzalez was indicted in U.S. District Court in California in February 2010 on multiple counts, including trafficking in counterfeit pharmaceuticals. He pleaded not guilty.
The indictment alleged that Gonzalez was a prolific drop shipper acting as part of a criminal conspiracy designed to distribute counterfeit drugs from China to customers throughout the U.S. The network allegedly included drop shippers in New York, Minnesota, and Tennessee. The middlemen, according to a confidential informant cited in the court documents, kept track of customers' addresses and orders via a secure website. They were paid through Western Union. (Typical rate: $10 to $15 a package.) Prosecutors alleged that Gonzalez's supplier, the architect of the counterfeiting ring, was a man named Bo Jiang. A citizen of China, Jiang, 34, was the owner of Qing Dao Long Cheng International Trade. In recent years he'd been living on the north island of New Zealand. He allegedly recruited his drop shippers on wholesale e-commerce websites like ecplaza.net.
In February 2010, Jiang was indicted in LA. He was arrested in New Zealand soon after and released on bail. In October he failed to show up for an extradition hearing. According to a report in Wellington's Dominion Post, New Zealand officials suspect he fled to China.
Not long ago, China was a hassle-free zone for counterfeiters. That's no longer the case, says Pfizer security chief John Clark. In recent years, as more of the fake pills made in China have stayed there, crackdowns have grown more common and penalties can be severe. In 2007 the Chinese government arrested the director of the nation's food and drug agency for allegedly giving approval to fake medications in exchange for cash payments. He was executed.
Clark says that members of Pfizer's security team now collaborate closely with Chinese officials. In May, working on tips from Pfizer, police officers in the port city of Guangzhou raided a syndicate of factories, packaging plants, and warehouses, confiscating thousands of fake Viagra pills. Several individuals were arrested. "China is still the main manufacturing center," says Clark. "On the other hand, we get good law enforcement cooperation."
In the U.S., Gonzalez's case went to trial in August. Over six days, a handful of pharmaceutical security experts, including Donnelly, testified for the prosecution. The jury found Gonzalez guilty on one count of conspiracy and seven counts of trafficking in counterfeit pharmaceuticals. He's currently awaiting sentencing. Jiang remains a fugitive and could not be reached for comment.
 
 
In the summer of 2011, federal agents identified the owner of the red F-150 seen outside the post office in North Carolina. "B. Green" was a 41-year-old local named Shane Lance. The feds arrested Lance and indicted him on multiple counts, including conspiracy to traffic in counterfeit drugs. Last spring he pleaded guilty to one count of conspiracy to traffic and one of trafficking, and in November he received his sentence: 10 months in prison and a $5,100 fine to be paid to Pfizer. Peter Joseph Bray, a public defender representing Lance, declined to comment on his client's behalf.
Donnelly wasn't surprised by Lance's short prison sentence or his relatively small fine. A common grievance among pharmaceutical private eyes is that the laws against drug counterfeiting are too weak. "If he were a crack dealer, for the same type of operation he'd be looking at a five-year minimum," says Donnelly.
Donnelly suspects that Jiang, wherever he is, continues to recruit drop shippers in the U.S. In November the U.S. customs agency published a press release touting Lance's conviction. The release says Lance was working on behalf of an unnamed "China-based company." Assistant U.S. Attorney Samuel Louis, based in Houston, who prosecuted the case, declined to identify the specific company.
Donnelly's detectives are still looking for connections. Often when a drop shipper is arrested, a constellation of affiliates will shut down temporarily. "Things will go dormant for a while after an arrest," says Donnelly. "You sort of leave them alone and just wait."
Two months after Lance's sentencing, hardtofindrx.com is going strong, although it has yet to respond to a request for comment. A recent look revealed offers for Viagra Herbal, Viagra Oral Jelly, Viagra Professional (generic), Viagra strips, Viagra Super Active, and Red Cialis Viagra. The site sells dozens of other medications ranging from "morning after pill" to "Slimmer X" to "Boob builder." Satisfaction is guaranteed.