Medvedev to Open Davos as Leaders Discuss Boosting Growth
Simeon Bennett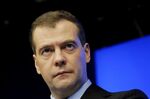 Russian Prime Minister Dmitry Medvedev will open next week's World Economic Forum in Davos, Switzerland, which will be attended by executives and policy makers including European Central Bank President Mario Draghi.
Medvedev's speech will lead into a program that begins with a debate on how to generate stable growth, with panelists including International Monetary Fund Managing Director Christine Lagarde and UBS AG Chairman Axel Weber, the Forum told reporters today in Geneva. The Forum will also discuss leading through adversity and strengthening societal resilience.
"There is a fatigue now in globalism, even a backlash," said Klaus Schwab, founder of the World Economic Forum. "The future of the world economy is based on restoring trust in our leaders."
As many as 50 heads of government, including Germany's Angela Merkel and Britain's David Cameron, will attend the five-day meeting that starts in the Swiss ski resort on Jan. 23. They will mix with Oscar-winning actress Charlize Theron and more than 1,500 executives, including Goldman Sachs Group Inc. Chief Executive Officer Lloyd Blankfein and JPMorgan Chase & Co. CEO Jamie Dimon.
Euro Crisis
The euro crisis and the future of banking are likely to take center stage at this year's conference, with panels also organized on topics such as the Arab Spring, the future of digital infrastructure and the role of women in the economy.
Deutsche Bank co-Chief Executive Officer Anshu Jain, French Finance Minister Pierre Moscovici and Italian central bank Governor Ignazio Visco will join the head of China's sovereign wealth fund on Jan. 25 at a panel organized by Bloomberg on the global economy.
Merkel, Draghi and Italian Prime Minister Mario Monti will address this year's Forum, with Monti taking a break from campaigning to speak on Jan. 23 and Merkel arriving a day later. Draghi will discuss the future of the euro on Jan. 25.
Irish Prime Minister Enda Kenny, European Union Economic and Monetary Affairs Commissioner Olli Rehn and U.K. Chancellor of the Exchequer George Osborne will also attend a special panel on Europe's crisis on Jan. 24.
Syria will be one of the main talking points on Jan. 25, with U.S. Senator John McCain joining a panel on the subject. Yahoo! Inc. Chief Executive Officer Marissa Mayer will also speak that day. There will also be a panel discussion on the role of women in economic decision making attended by Lagarde, Facebook Inc. Chief Operating Officer Sheryl Sandberg and Harvard President Drew Faust.
Before it's here, it's on the Bloomberg Terminal.
LEARN MORE