Overweight? Smoke? Pay Up for Health Insurance
By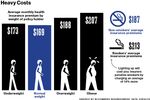 The 69 percent of American adults who are overweight or obese and the 19 percent of us who smoke pay more for health insurance because of the risks associated. People with a body mass index of 30 or higher, considered obese, pay on average 22 percent more to buy health insurance in the individual market, according to data (PDF) released this week by eHealthInsurance.com, based on more than 200,000 policies sold through the online brokerage for 2012.
Tobacco users pay an extra 14 percent, though women who smoke pay even more: an extra $44 a month on average, or 22 percent more than nonsmokers.
This kind of price variation is most salient for people buying medical policies on their own or for small companies, because large employers have big risk pools. In a big enough company, the fitness buffs balance out the smokers. The good news for individuals and small businesses: 2013 is the last year insurance companies can charge people more for those extra pounds. The Affordable Care Act's insurance market reforms taking effect in 2014 limit the factors underwriters can consider. Premiums can reflect the policy holder's age, family size, geographic region, and smoking status. Insurers will still be allowed to charge as much as 50 percent more for lighting up.
Before it's here, it's on the Bloomberg Terminal.
LEARN MORE