Urban Farm Gotham Greens Gives Us Brooklyn Lettuce
Will Halsey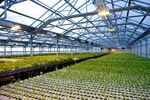 Viraj Puri stands among his crop of lettuce and basil, the pungent smell of the herb punctuating his conversation. It is harvest time and Puri is giving a tour of his farm. A worker nearby is methodically cutting lettuce for packaging. The temperature outside, 38 degrees, is not optimum for growing lettuce. But the cold doesn't bother the lettuce, or Puri. His produce will grow through the harshest winter, extreme heat of the summer—even Superstorm Sandy. Puri's farmland is a warehouse rooftop in Brooklyn.
Today, if Eddie Albert wanted to give up Manhattan for the peaceful life of a farmer, as he did in the 1960s sitcom Green Acres, dragging along his glamorous wife Eva Gabor for comic relief, he could have simply hopped on the subway and commuted the four miles to Brooklyn or any of New York City's outer boroughs.
Puri is part of a growing movement—the urban farmer. The 31-year-old co-founder and chief executive of Gotham Greens walks down the paths between his vegetables, which are neatly tucked into soil-less containers, as he describes the current varietals growing. His "farmland," 15,000 square feet of rooftop greenhouse, yields roughly the same as a traditional 6-acre farm. Gotham grows 5 to 10 types of lettuce including red and green leaf, and baby butterhead lettuce, which it supplies to restaurants and high-end grocery stores in the New York metro area. "Since we have perfect weather year-round, we can always produce a consistent product," he says. Oliver never had it that easy on Green Acres.
As the planet's population swells, particularly in major cities, scientists and public officials believe urban farms will play an important role supplementing our food supply. "Cities will never feed themselves; however, this is not the main point of urban agriculture," says Nevin Cohen, assistant professor of environmental studies at New York's New School of Social Research. "Local food is a growing trend and there is such potential here," he says, pointing out that New York City has the right ingredients to support urban farming—acres of usable rooftop space, eager entrepreneurs, sympathetic public officials, and an expansive food market that demands fresh local produce.
Started in 2008 with co-founder Eric Haley and Jennifer Nelkin, Gotham is supplying the needs of local chefs and supermarkets from a warehouse in a sparsely populated section of Greenpoint, Brooklyn. It is the only rooftop greenhouse in New York City to produce vegetables on a commercial sale. On a tour of the farm, Puri's environmental engineering background is evident in the design of the rooftop operation. The produce is grown hydroponically, using recycled and mineral-enhanced water—much less than is needed for the traditional soil farm. Solar roof panels on the greenhouse provide nearly half of Gotham's electricity. The computer that monitors the climate knows exactly how much heat or cool air to provide, turning on lights during cloudy days and opening side vents instead of roof vents when it rains. Gotham is sustainable even down to the "beneficial insects" it uses instead of pesticides. When a crop-eating bug is found, Puri unleashes its natural enemy—ladybugs, for example, eliminate the threat of aphids.
Gotham doesn't sell its produce beyond a 15-mile range. Puri says the proximity cuts down on carbon emissions and also allows him to guarantee delivery to local customers. After Superstorm Sandy, Gotham was the only farm able to deliver fresh lettuce to local Whole Foods stores.
The farm is winning over some of New York's most discriminating chefs. "They grow, cut, and deliver their product in the same day," says Gramercy Tavern Executive Chef Michael Anthony, "which is an amazing ability given their consistent quality." Mario Batali's Eataly also uses Gotham Greens in its dishes, along with a host of other New York City dining establishments.
Business is so good, Puri says the company will expand with two additional greenhouse farms this year, one in south Brooklyn and the other in Queens. Puri knows New Yorkers can't live on lettuce alone, so the new locations will grow cucumbers, tomatoes, and even year-round strawberries.