Makeup Trends for the Office
The newest makeup trends—berry lips, daytime smoky eyes, pink cheeks—translated for the office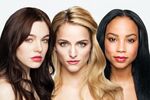 Berry Lips
For lips, "go with something on the sheer side that accentuates your complexion and emulates your natural lip color," says Alvarado. "Then apply to the center of the mouth and smear outward, creating a kind of stain."
 
Tip: If you're worried about having lipstick on your teeth during a presentation, go old school—right beforehand, put your finger under your lips and pull out. Don't blot with a tissue—that will just take away the moisture.

Pink Cheeks
"You want to look alive at work!" says Chantecaille makeup artist Ernesto Alvarado, who recommends picking a blush color that matches the pinkness on the palm of your hand. To apply: "brush up toward the hairline, never down."
 
Tip: Most women don't wear enough blush. When you brush it on, your skin gets red from contact. But in five minutes, that color fades. So use slightly more than you think you need.

Smoky Eyes
"People think smoky eyes are more rock 'n' roll, but that's not true—it just means the color is smudged," says Alvarado. For an office-appropriate take, "a taupe is always elegant—something a few shades darker than your skin."
 
Tip: For a daytime smoky eye, use the darkest shadow only where you can feel the eyeball under the brush. The color should go from the base of the lashes to lightly above the crease. Then use a highlighter on the brow bone.

 
Beauty editor: Aja Mangum; Makeup artist: Kat Hinkle
Before it's here, it's on the Bloomberg Terminal.
LEARN MORE