How Oscar Nominations Affect the Box Office
By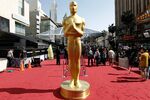 Nothing quite assures moviegoers that a film is worth watching like a stamp of approval from the Academy of Motion Picture Arts & Sciences. With the nominees for the 85th Academy Awards announced today, the films can expect a January wave of box office sales.
Stephen Spielberg's Lincoln led the way with 12 nominations, including for Best Picture and Best Actor. Next was Life of Pi, director Ang Lee's fantasy adventure, with 11 nominations, including for Best Picture and Best Directing. Les Miserables, the musical starring Hugh Jackman and Russell Crowe, and Silver Linings Playbook, a drama starring Bradley Cooper and Jennifer Lawrence, garnered eight nominations each. Ben Affleck's critically acclaimed film Argo got seven.
Oscar-nominated films remain in theaters about twice as long as others, according to a report by Randy Nelson, professor of economics and finance at Colby College. Studio executives, recognizing the value of the Oscars,
typically release films with award potential in the last few months of the year to capitalize on the bump when the nominations are announced the following January.
Nelson found that a nomination for Best Actor or Best Actress increases box office revenue by about $683,660 (we adjusted the values from the 2001 report to 2012 dollars). For Best Picture, the boost jumps to $6.9 million.
By that calculation, David O. Russell's Silver Linings Playbook, which has earned $35.4 million so far in the domestic box office, stands to gain nearly $8.3 million, a 23.4 percent lift, from its nods for Best Picture, Best Actor, and Best Actress.
Taking home a big award has an even greater impact: Based on Nelson's study, a Best Picture win boosts box office sales by $18.1 million, on average, and a Best Actor or Actress win by $5.8 million. Even a Supporting Actor or Actress award increases sales by $2.3 million.
A separate report by a Stanford University masters student on Boxofficequant.com also estimates the impact of other Oscar wins, from Adapted Screenplay ($107,000) to Sound Editing ($3.9 million).
Of course, some films do just fine without the help of the Academy. The Avengers, last year's highest-grossing film with $623.4 million from the domestic box office, received only one nomination for Visual Effects.
No. 2, The Dark Knight Rises (box office sales: $448.1 million), received none.