China to Influence Emerging Economies More Than U.S., HSBC Says
Lyubov Pronina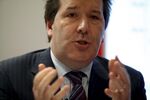 China will have a bigger influence than the U.S. or Europe over the economies of developing nations as the world's largest exporter increases its contribution to global growth, according to HSBC Holdings Plc.
"We are moving away from a U.S.- or Europe-led world to a world led by China," Stephen King, HSBC's chief economist, wrote in an Emerging Markets Index report published today. "China will make its biggest-ever contribution to global growth in 2014," King said, in what he termed a "great rotation."
China's economic growth is set to accelerate to 8.6 percent this year, from 7.8 percent in 2012, King said, a rate of growth that will benefit neighboring countries and commodities-rich nations. China's expansion compares with a 5.4 percent growth forecast for the emerging world as a whole, according to HSBC.
Exports to China currently account for 12 percent of South Korea's gross domestic product, up from 3.5 percent in 2000. Malaysia, Singapore, Australia, Chile, Kazakhstan and Saudi Arabia have also increased their exports to China while exports by the U.S. and the U.K. to the Asian country represent less than 1 percent of their respective GDPs.
"Global economies, particularly emerging markets, are driven more and more by the new world, which is exemplified by Chinese strength and contribution to global growth," Murat Ulgen, HSBC's chief economist for central and eastern Europe and sub-Saharan Africa said by phone.
While China's expected growth rate this year is not as high as the 10 or 11 percent levels seen in the past, "China is now a much larger economy and because of that, Chinese contribution to global growth is much bigger," Ulgen said.
Before it's here, it's on the Bloomberg Terminal.
LEARN MORE