Pour It Forward: Canada Shares the Love at Tim Hortons
by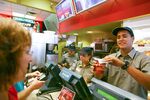 Growing up in Canada, I never really understood the passion for Tim Hortons. The fast-food chain, co-founded by a hockey player who died while driving drunk in 1974, fronts its ads with a black cup of coffee. It never boasted the hip appeal of Starbucks or the wacky donut selection of Dunkin' Donuts. And yet the chain has more than 3,000 coffee shops north of the border. On a per-capita basis, that's more than double the number that McDonald's boasts in the U.S.
A recent trip to Canada gave me a fresh appreciation for Timmy's: the sugary Timbits, the iconic mugs, the family-sized cannisters of powdered cappuccino, the warm soup, and—yes—the coffee. And now comes news of something else: a "Random Cups of Kindness" campaign that prompted Winnipeg customers to pay each other's coffee tabs for 228 orders in a row over a three-hour period before Christmas.
It started with the company's nationwide campaign to randomly pick up guest tabs over a four-day period before Christmas. At 10 a.m. on Dec. 21, according to a Jan. 2 report in the Winnipeg Free Press, that prompted one customer in a local drive-thru to pick up the bill for the next person in line. For the next 227 orders, people kept paying for the next person in line. It sounds so, well, Canadian.
Whether that's a selling point south of the border remains to be seen. While the chain now has more than 600 locations in the U.S., it's struggled to compete with the entrenched coffee giants. Fear not. As fans of the hit series Homeland may have noticed, Canada's favorite coffee has discovered the value of product placement. (Quinn and Saul drink the good stuff during a stakeout.) Next up, according to the Toronto Star: Jake Gyllenhaal downing some Timmy's brew in the upcoming thriller Prisoners, Robert DeNiro chomping on Timbits in Grudge Match, and Vin Diesel doing a Timmy's run during Fast and Furious 6.
Let that be a message to Starbucks baristas who took to scribbling "Come Together" on customers' cups over the holiday season. Having your chai latte held up by servers bearing inspirational messages doesn't engender the same goodwill as when someone else is paying for your drink.
Before it's here, it's on the Bloomberg Terminal.
LEARN MORE