America Must Stop Exporting Obesity
by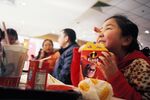 The New Year's holiday always brings resolutions to eat and drink better, often followed quickly by failure and remorse. For some U.S. companies that profit from overconsumption, the good news is that more of the world is joining the average American in gluttony.
Fast food, obesity, and the market for drugs to treat obesity-related health problems are spreading worldwide. U.S. policy makers should support the developing world in the fight against obesity, not try to use trade rules to support fat-profiting companies. They haven't done that yet, but the history of U.S. trade deals suggests they might start soon.
Take YUM! Brands, which owns the KFC, Pizza Hut, and Taco Bell brands, operating 37,000 restaurants in 120 countries. Domestically, Yum has been having a rough time. Overseas, however, KFC's Colonel Sanders has proven himself far more popular. China alone was home to 3,701 KFC outlets last year—about three-quarters the number in the U.S.—and Africa will have about 1,200 KFCs by 2014, selling $2 billion worth of chicken. Similarly, Starbucks will have more than 1,500 stores in more than 70 cities in China by 2015, making the country Starbucks's second-largest market, after the U.S.
Along with fried chicken and milkshakes dressed up as coffee comes fat. What about a lunch of KFC popcorn chicken, honey mustard dipping sauce, potato wedges, and a 20-ounce Pepsi? That's 1,040 calories. Follow it up with a Starbucks venti iced peppermint white chocolate mocha with whipped cream (700 calories), and you've almost reached a woman's recommended daily intake.
With only one KFC for each third-of-a-million Chinese people, give or take, it's a bit much to blame the chain—or Starbucks, with half that number of stores—for the growing weight problem in China. Yet fast food is certainly one factor contributing to the 45 percent of Chinese men and one-third of Chinese women who are overweight, according to 2010 figures from the World Health Organization. While that remains behind the U.S.—a country where full-on obesity is more common than being merely overweight is in China—it points to a growing burden of weight-related illness. Ninety million Chinese suffer from diabetes, almost four times the number in the U.S..
In turn, that creates considerable opportunities for U.S. pharmaceutical companies. China's diabetes market is expected to grow to $3.2 billion annually by 2016, Bloomberg News reported. U.S. pharmaceutical company Merck is one of many hoping to profit through the sale of medicines including Januvia, which helps to stabilize blood sugar levels.
Worldwide, the WHO reports that high blood pressure caused almost 13 percent of all deaths in 2004, including a growing proportion of deaths in poor countries. More than one-third of Africans are estimated to suffer from the condition. And according to the IMS Institute for Healthcare Economics, 17 high-growth emerging markets, including China, will account for 28 percent of total spending on medicines by 2015, up from 12 percent in 2005. That's largely due to higher expenditures on drugs to treat diseases of the rich. Global spending on diabetes drugs will increase as much as 7 percent through 2016, driven by cases of the disease in the developing world.
While growing global overconsumption creates considerable opportunities for U.S. firms, both to act as enablers and ameliorators, it would be a cynical and short-sighted American policy maker who tried to maximize obesity rates in foreign countries to increase domestic profits. Having said that, there appears to be no shortage of cynical, short-sighted American policy makers. How else to explain a history of U.S. trade deals involving limits on tobacco tariffs and the size of health warnings on cigarette packages?
The fat lobby hasn't tried to influence international trade agreements in the same way tobacco firms have, but it might be worth ensuring they can't do so in the future. In 1997, Congress passed the Doggett Amendment, which banned staff from the departments of Commerce, Justice, and State from promoting tobacco abroad. President Bill Clinton extended the prohibition government-wide with a 2001 executive order. Similar legislative or executive action could ensure that U.S. trade negotiators and diplomats work with developing nations to help curb obesity. The rules could also ensure that U.S. negotiators don't propose limits on food labeling, portion control, or other public health measures as part of trade negotiations.
A healthier world will be a more productive world—and that's far more in the long-term interests of the U.S. than selling a few extra buckets of chicken wings.
Before it's here, it's on the Bloomberg Terminal.
LEARN MORE