U.K. Services Unexpectedly Shrink as Recession Risk Rises
Scott Hamilton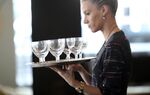 U.K. services unexpectedly shrank for the first time in two years in December, clouding the economic outlook as Britain struggles to avoid a triple-dip recession.
A gauge of activity declined to 48.9 from 50.2 in November, Markit Economics and the Chartered Institute of Purchasing and Supply said in London today. Economists had forecast no change, according to the median of 30 estimates in a Bloomberg News survey. A reading below 50 indicates contraction. Another report showed euro-area services shrank for an 11th month in December.
The data contrast with a surprise surge in a U.K. manufacturing gauge earlier this week and indications from a Bank of England survey that its credit-boosting program is beginning to have an impact on lending. Markit said the drop in the services index increases the likelihood that the U.K. is sliding back into recession.
"The economy is basically flat-lining," said Rob Wood, an economist at Berenberg Bank in London. "Fragile but stable is the best way to describe the U.K. right now. Any small shocks could easily knock the U.K. off course."
While Markit's U.K. manufacturing index published on Jan. 2 rose to a 15-month high of 51.4 in December from 49.2 in November, its construction gauge dropped to a six-month low. A composite measure based on the three surveys is consistent with the economy contracting by about 0.2 percent in the fourth quarter, Markit Chief Economist Chris Williamson said.
Pound Weakens
The pound fell for a second day against the dollar, dropping to the lowest in almost four weeks. It weakened 0.5 percent to $1.6022 as of 11:13 a.m. in London after a 0.9 percent decline yesterday.
In a separate report, Markit said its index of euro-area services rose to 47.8 in December from 46.7. That gauge has been below 50 for 11 months. A composite of services and manufacturing was at 47.2, below an initial estimate of 47.3.
In the U.K., Markit said services trading was "challenging" in December, with new business falling for a second month. Anecdotal evidence indicated "a general reluctance amongst clients to commit to new business spend" and a tightening of budgets, it said. Employment declined, confidence stayed at an 11-month low and expectations for the coming year were "historically muted."
"Underlying demand remains very weak" and "activity may continue to fall in the New Year," Williamson said.
Mortgage Data
Britain's recovery has yet to gain traction amid government budget cuts and a squeeze on credit. Still, there were some positive data today, with the Bank of England reporting that mortgage approvals rose to the highest in 10 months in November. Lenders granted 54,036 mortgages, the most since January 2012, compared with 53,071 in October.
The report came a day after the central bank published a survey of lenders showing the availability of mortgages rose "significantly" in the fourth quarter. The Credit Conditions Survey also showed that demand for home loans increased in the quarter and that spreads narrowed "significantly."
In the U.S., data today may show the labor market strengthened in December. Non-farm payrolls probably rose by 153,000 in December after a 146,000 gain in November while the unemployment rate held at 7.7 percent, according to Bloomberg surveys.
Separate U.S. reports may say factory orders climbed in November, while services growth slowed in December. The Institute for Supply Management's services index, which covers almost 90 percent of the economy, probably fell to 54 in December from 54.7, according to a Bloomberg survey.
In Asia, India's service industries expanded at a faster pace in December, with the purchasing managers' index rising to 55.6 from 52.1 in November. A gauge of China's services activity fell to 51.7 from 52.1.
Before it's here, it's on the Bloomberg Terminal.
LEARN MORE