Laura Ingraham on Leaving Talk Radio Network
The conservative radio host and Fox News regular on quitting Talk Radio Network to start a less political show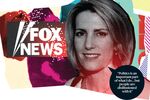 After 11 years at TRN, it was time to retool how I approached the business. That meant everything from whom I partnered with and how the show is delivered to the topics I cover. Pounding on the same people and themes doesn't expand an audience. Conservatives limit themselves when they just look at the world through a political lens. Politics is an important part of what I do—my core beliefs haven't changed—but people are disillusioned with it.
I'm a single mother to three young kids; I've been treated for breast cancer; I'm caring for my aging father. There's a lot more that unites us than divides us. I want the show to be livelier, funnier, newsier, more unpredictable. The personal connection with listeners is more satisfying than political conversations.
I sought a lot of advice when I made this move, from people outside the business and from those who are in it, like Don Imus. Don had me on his show in 1996, and I became one of his regulars. We'd tease each other and laugh and talk about issues. When radio is at its best, it still feels like you're chatting with extended family.
I decided to form my own company and partner with Norm Pattiz at Courtside Entertainment. He's an old friend who syndicated my show back in 2001 through [the now defunct] Westwood One. I didn't want to be with someone who'd try to control everything I do. About 17 years ago, I had a conversation with [consultant and Oprah Winfrey's partner] Stedman Graham. When I told him I was thinking about going into the media, he said, "If you do it, own it. Create your own brand." I never forgot that. Now, I finally own my content. It means I have a lot more responsibility, but it feels good.
The reason Fox is popular is that most Americans believe that the dominant media in the United States is aligned with the Democrats and will not air more conservative views. It's why Rush Limbaugh is popular, too. If it weren't for the success of someone like Rush, I wouldn't be doing this. You have to deliver a good product. Ratings tell you more people think Fox does that than MSNBC.
Five years from now, I want my brand to be more entertainment-focused than politics-focused. I want to do what the federal government doesn't do. I want to make more money than I spend. — As told to Diane Brady
Before it's here, it's on the Bloomberg Terminal.
LEARN MORE