James Dyson on Killing the Contrarotator, His 'Educative Failure'
by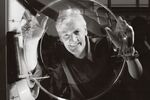 James Dyson famously took 15 years and 5,126 prototypes before coming up with the bagless vacuum cleaner that made him a household name. But that doesn't mean the U.K. inventor doesn't know when to quit. While Dyson has since moved into products from hand dryers to bladeless fans, he reluctantly abandoned one of his favorite inventions: the Contrarotator Washing Machine. He spoke me about his decision to kill the innovative—and expensive—product.
"I don't design down to a price. With my vacuum cleaner, I wanted to have this instantaneous hose and a clear bin of polycarbonate to see the dust. When I looked at washing machines, I took the same approach. We came up with a technology that involves having two drums, two motors, clutches, and more. By moving the drums in opposite directions, we were able to mimic the motion of hand washing.
"The problem was we didn't charge enough for it. When we started selling it in the U.K. (in 2000), it cost around a thousand pounds [the equivalent of about $1,500 at the time]. We should have charged a lot more for it. We stopped making them in 2005 because we were losing money on it. To be frank, I would probably have soldiered on, but the financial people in the business advised me against it. Nobody forces you to do it. I own every share of my company, and I don't want to sell any of it. But you can't go on doing things that your colleagues around you no longer want you to do. You can't bully people into going your way. You listen to them, and often they're right.
"We made a mistake. By then, it was too late. We might have been able to raise the price, but by then we'd lost a lot of money. Retrospectively, we should have charged more or done the technology without using so much machinery. As a washing machine, it was a great success. As a business, it wasn't. We made a washing machine that was too expensive; it had too much technology. We had automotive technology like a gearbox to switch the drum direction.
"You don't always get everything right. You make decisions quite early on, and then you push it through. You have to. You can't keep changing your mind. You decide to do something, you fix it, and you do it. If it works, it works. If it doesn't work, it doesn't work. At a certain point there's only so much you can do to change it. That's why they're all such hard decisions.
"I really enjoyed getting into washing machines and understanding how to make them better. We all had enormous fun doing it. It just so happened we didn't make any money on it. But it was well worth doing. A huge amount of what we do is wasted because it doesn't work or it's the wrong direction or whatever. That's the nature of being an engineer. That's the nature of R&D. We spend two and a half million dollars a week on R&D, and a lot of it is failure. But you learn a lot from all that failure. Making this washing machine was the most wonderful educative failure. Success is not always as enjoyable as you might think. When something's a success, the results are clear. Failure is an enigma. You worry about it, and it teaches you something."
Before it's here, it's on the Bloomberg Terminal.
LEARN MORE