pursuits
Depardieu Will Give Up French Citizenship Over Taxes
By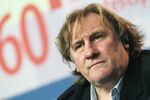 Gérard Depardieu has landed a starring role in a real-life political drama that has sparked furious debate among his countrymen.
It started last week when France's best-known living actor announced he was moving to Belgium to escape high taxes, including a new 75 percent income tax rate that the Socialist government is imposing on the rich. Prime Minister Jean-Marc Ayrault promptly denounced Depardieu's decision as "pathetic."
On Dec. 16, Depardieu fired back with an open letter to Ayrault in a Paris newspaper, saying he would give up his French citizenship. "I don't expect to be pitied or praised, but I reject the word pathetic," he wrote, adding that over his working life he had paid almost $200 million in French taxes. "I am leaving because you consider that success, creativity, talent, anything different, are grounds for sanction," he told Ayrault. Calls by Bloomberg News to Depardieu and his press agent were not returned.
French news websites have been deluged with comments variously branding the 63-year-old actor as either hero or villain, with no clear majority for either point of view. "Bravo, Dépardieu, you are right to flee!" wrote one reader on the site of the center-left newspaper Le Monde. "Depardieu's attitude is scandalous! I propose we boycott all his films," wrote another, on the website of the right-leaning Le Figaro.
Critics point out that Depardieu has benefited from generous government subsidies to France's film industry, while defenders say it is unfair to condemn him for leaving the country when many wealthy French have done likewise. Nearly 6,300 taxpayers subject to France's "wealth tax" on high-net-worth individuals—the only tax of its type in Europe—left the country between 2001 and 2010, the newspaper Le Parisien reported on Dec. 17. The French-speaking border region of Belgium where Depardieu plans to settle is one of the most popular destinations, along with Switzerland and Britain.
In his letter to Ayrault, Depardieu said his 2012 tax bill, including payments to the French social-welfare system, totaled 85 percent of his income before the new tax rate kicks in. Belgium has no wealth tax, and capital-gains and estate taxes are significantly lower than in France. France's richest man, LVMH Moët Hennessey Louis Vuitton boss Bernard Arnault, announced in September that he was applying for Belgian citizenship, although he said he would continue to pay taxes in France.
Depardieu's relationship with his countrymen is complicated. A school dropout from a rough working-class background, he achieved worldwide fame for playing such classic French roles as Cyrano de Bergerac and Jean Valjean of Les Miserables, as well as acting in such U.S. films as 1990′s Green Card. Yet in France he is often regarded as a spoiled, ill-mannered oaf—an impression reinforced last year when he urinated in the aisle of an Air France plane during takeoff from Paris, after flight attendants told him to remain seated. Another passenger said he appeared drunk. Just last month, he was arrested in Paris on suspicion of drunk driving after crashing his motor scooter.
In recent years, Depardieu has been seen more as a businessman than as an artist. While continuing to act, he also produces and directs films, and has investments ranging from a Loire Valley vineyard to Paris real estate. His sumptuous Left Bank mansion was recently put on the market at 50 million euros ($65.8 million) as he prepared to leave the country.
Depardieu's decision throws fuel on an already heated debate over the government's plan to impose heavy new taxes on the rich to help pare the budget deficit. They include the 75 percent levy on incomes over 1 million euros, and a new 45 percent bracket for incomes over 150,000 euros. The government contends the wealthy should sacrifice to help the country out of its difficulties. "I am totally scandalized," Culture Minister Aurélie Filippetti said in a Dec. 16 television interview. "Gérard Depardieu is abandoning the battleground in the middle of the war against the crisis."
Many French people don't appear to share that sentiment. In a nonscientific online poll posted Monday on the website of the magazine Le Point, 21 percent of nearly 15,000 respondents said they disapproved of Depardieu's action. But far more—nearly 38 percent—said they agreed with the statement "Let's hope this spectacular gesture makes the government understand that hunting down the rich is dangerous for France."
With reporting by Heather Smith and Tara Patel of Bloomberg News.
Before it's here, it's on the Bloomberg Terminal.
LEARN MORE