America's Best Places to Raise Kids 2013
Daniel D'Addario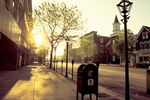 Susan Drucker, lured by an excellent school system and diverse population, moved to Solon, Ohio, a suburb 18 miles from Cleveland, 20 years ago. "There's diversity and collaboration," says Drucker, a mother and now the town's mayor. "On a personal level, that's why my husband and I moved here."
Indeed, these perks have drawn many of Solon's 3,346 families with children. (Frozen-food fanatics might note it also happens to be where Nestlé manufactures Stouffer's and Lean Cuisine.) "As Solon's growing, it still has a friendly, safe atmosphere," says local real estate agent Kathleen Bergansky. Advantages such as these boosted the town to the top of Businessweek.com's seventh annual list of great small towns to raise kids.
Businessweek teamed up with Bloomberg Rankings to evaluate more than 3,200 places nationwide with populations between 5,000 and 50,000. Public school performance and safety were weighed most heavily, and to gauge the local job market, we looked at median income and county-level unemployment. Other factors include housing costs, commute time, poverty, adults' educational attainment, share of households with children, and diversity. The data come from GreatSchools.org, the FBI, the U.S. Census Bureau, and the U.S. Bureau of Labor Statistics. The list excludes places where the median family income exceeds $115,866, the lower limit for the wealthiest 20 percent of U.S. families.
The rise of telecommuting (up to 30 million Americans work from home at least once a week) can now give working parents more flexibility when choosing where to live. Of course, many thrive on the energy of big cities. But for those parents inclined toward small-town living and tired of the stresses of urban life, there are good options, including places without the isolation and lack of diversity typically associated with "Mayberry." In Solon, for instance, African- and Asian-Americans each represent 10 percent of the population.
Drucker also takes pride in Solon's engaged residents: After a student was ejected from a cross-country meet for a Tourette-related outburst, she helped him organize a townwide Tolerance Fair, attended by 1,000 Solon residents in 2011.
Such family-oriented town activities may seem quaint, but they do offer welcome diversions for kids, who might otherwise find it too easy to get lost in their smartphones. Children at the Alabama State Fair in Pelham can show off their livestock, for instance; those in St. John, Ind., can attend a community corn roast; and in Signal Mountain, Tenn., they can perform at the children's community theater.
There are, some argue, other subtle signs of a great town. "You should be looking for front porches," as they really bring neighbors together, says Ann Pleshette Murphy, former editor of Parents magazine and author of The 7 Stages of Motherhood. Or, in the case of Solon, locally made Stouffer's macaroni and cheese. Some details can be left to individual discretion.