Kmart's Connecticut-Shooting Twitter Fail
Jared Keller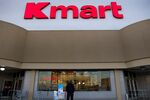 Twenty-six people, many of them children, were killed on Friday after a gunman walked into Sandy Hook Elementary School in Newtown, Conn., and opened fire on a classroom with a high-powered rifle. Bloomberg News reports that this is the deadliest school shooting since the Virginia Tech massacre in 2007.
Around noon East Coast time, when the shooting began to filter onto news networks and social media, Kmart was in the middle of a 'Twitter party' to promote the company's Fab! 15 Toys campaign. The official Kmart Twitter account sent out this message:
Our thoughts and prayers are with the victims of this terrible tragedy. #PrayforNewtown #CTShooting#Fab15Toys
Twitter users pounced.
It's a misstep that's become familiar: When corporate social media collide awkwardly with national tragedy, a social-media firestorm ensues. In August, fashion site CelebBoutique sparked widespread outrage after jumping on the trending #Aurora hashtag with this:
#Aurora is trending, clearly about our Kim K inspired #Aurora dress ;)
During Hurricane Sandy, American Apparel sent out an e-mail blast to subscribers, offering 20 percent off items in storm-affected areas during the 36 hours that Sandy was expected to be slamming the East Coast.
Chris Brathwaite, vice president for media relations and corporate communications at Sears Holdings, which owns Kmart, issued this comment on Friday evening: "Kmart used #Fab15Toys earlier today to notify participants of a Twitter chat that it was ending early due to the tragedy in Connecticut. The hashtag is necessary to notify chat participants of the message. This was not used for any promotional reasons, simply to communicate our cancellation and our message of sympathy to the participants."
Earlier, Kmart's Twitter account had sent out a message announcing the cancellation of its Twitter chat and discouraging followers from using the #Fab15Toys hashtag. For many, it was too little, too late.
Before it's here, it's on the Bloomberg Terminal.
LEARN MORE