The ECB Gets Power Over the Banks
by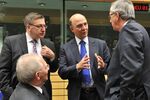 Europe took a big step on Dec. 13, when European Union finance ministers, meeting in Brussels, agreed to put major banks in the euro currency zone under the supervision of the European Central Bank. The move will allow a euro-zone firewall fund to provide direct bailouts to banks, breaking the so-called doom loop in which national governments' debt ratings are dragged down when they try to aid troubled lenders.
But, as so often happens in Europe, politics trumped speed. The new arrangement won't be in place before March 2014. Why not sooner? German Chancellor Angela Merkel is seeking a third term in elections next September—and Germany, the major underwriter of hundreds of billions in loans already provided to ailing euro-zone economies, would certainly pay the lion's share of bank bailouts as well. By delaying implementation, "Germany probably has managed to keep discussion of these measures off its 2013 election campaign," Citigroup economist Jürgen Michaels wrote in a research note after the decision.
The deal also leaves plenty of questions unanswered, including details on how bailouts would be financed and how failed banks would be wound down. "They've agreed to a structure," Julian Callow, chief international economist at Barclays, said on Bloomberg Television. "But there are still some thorny issues."
Under the agreement, 150 to 200 of the currency zone's biggest banks would come under direct ECB regulation by 2014, and smaller banks could be brought in later. In theory, banks could get aid immediately from the firewall fund, the European Stability Mechanism, but only if all 27 EU countries agreed unanimously to provide it. A German government spokesman, briefing reporters after the Brussels announcement, took pains to dampen expectations on that score. The ECB might take on supervision of one or two lenders on a special case basis, the official said.
Even so, European governments struggling with sick banks are relieved that help will come eventually. "Two, three, four weeks ago it wasn't clear at all there would be an agreement," Spanish Economy Minister Luis de Guindos told reporters in Brussels. Some 80 percent of Spanish banks would be brought under ECB supervision, he said. "This shows there is a clear will to progress."
With reporting by Rebecca Christie, Jim Brunsden, and Angeline Benoit
Before it's here, it's on the Bloomberg Terminal.
LEARN MORE