Super PACs Are Cushy Jobs
Many groups spent more on overhead than campaigns
By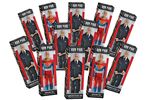 Rebecca Burkett's ties to Newt Gingrich paid off handsomely this year. The Atlanta-area fundraiser created Winning Our Future, a super PAC, to back the former House Speaker's presidential bid, pulling in $23.9 million before Gingrich dropped out in May. More than six months later, Burkett was still drawing a check. According to data from the Federal Election Commission, she collected almost half her $500,211 compensation as the super PAC's executive director after Gingrich quit. "We continued to take calls from lots of people who were upset that he got out; we continued to monitor the presidential race," says Burkett, who ran the group until November. "There was lots to do."
Super PACs can raise infinite amounts of money and spend it pretty much as they wish, with few restrictions and little oversight from the FEC. This election cycle, 420 super PACs poured $104.4 million into operational expenses such as travel and salaries, FEC data show. Of those groups, 151 spent their money on overhead rather than on mailings or ads to promote candidates. One example: ChristinePAC, formed by former Delaware Senate candidate Christine O'Donnell, used up $469,425 on consulting, travel, marketing, and other administrative costs without spending anything to support or oppose 2012 candidates, according to the FEC data. Matt Moran, the super PAC's director, says the spending reflects "the basic cost of doing business." The group educates voters on the estate tax and other issues, primarily through a website, he adds. O'Donnell, now a marketing consultant, doesn't draw a salary from the super PAC.
"Political spending is a fuzzy kind of magical thing," says Bob Biersack, who worked at the FEC for 30 years and is now a senior fellow at the Center for Responsive Politics. "You have some cases where a group is spending money to raise money to spend money. It's a churn, and sometimes there's no 'there' there." Some of the biggest PACs, by contrast, minimized overhead. Restore Our Future, which backed Mitt Romney, spent $9.3 million of its $153 million in outlays on administrative costs. The group "had sophisticated and generous donors who expected us to be efficient and effective with their contributions," says Charles Spies, the super PAC's treasurer.
Burkett first began working for Gingrich about five years ago, raising money for his American Solutions political action committee. She started Winning Our Future in December 2011. During the Republican primaries, the super PAC, which raised the vast majority of its money from Las Vegas casino magnate Sheldon Adelson, put millions into media supporting Gingrich, including a 27-minute documentary attacking Bain Capital. Burkett recently turned management of the group over to her No. 2, Gregg Phillips, who has earned a total of $271,702 so far.
Under FEC rules, it's legal for super PAC founders to approve payments to themselves. In Illinois, social media entrepreneur Gary Franchi formed Revolution PAC to support Ron Paul and tapped into the fervent crowd of Paul supporters to back the Texas representative's presidential bid. Franchi, who'd never been a political fundraiser, raised more than $1.2 million, including $85,000 from PayPal co-founder Peter Thiel. The super PAC spent 83 percent of its cash on overhead, FEC data show. Franchi and two social media companies he owns charged the super PAC $153,000 for media consulting, rent for office space, and other expenses from August 2011 to June 2012.
Franchi says he was "actually impressed" with what his super PAC accomplished, though he's no longer involved. Revolution PAC was $63,374 in debt as of late November, and Washington-based campaign finance attorney Dan Backer has taken over the group. The loose ends he's sorting through include distributing $25,000 worth of Ron Paul action figures—their delivery delayed by a production problem in China—to supporters. "Like many grassroots people, Gary was very enthusiastic about the cause but didn't have the background to run a business or large organization," Backer says. "With super PACs, a lot of people were getting paid what is probably not the optimal rate."
BOTTOM LINE -
The bottom line: Of the 420 super PACs active in the 2012 election, 151 spent no money to support candidates, instead using it on overhead.
Before it's here, it's on the Bloomberg Terminal.
LEARN MORE