Gabrielle Bernstein, Guru to Young Professional Women
Gabrielle Bernstein, spiritual guru to the young, professional, and plugged-in, is conquering the business of joy
Marina Khidekel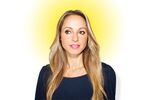 The blonde woman in the tight pink dress and matching lipstick is nodding, laser-focused, as she listens to the question being posed from across the table: "Don't you think hitting bottom at 25 gives you the best opportunity to spring yourself forward?"
The woman is clearly a pro. She takes a perfectly timed beat. "I wouldn't be sitting here with you if I hadn't hit bottom at 25," she tells Oprah Winfrey.
What transpired between Oprah and Gabrielle Bernstein—a 32-year-old life coach, lecturer, cautionary tale, and triumphant author—on the Nov. 18 episode of the Oprah Winfrey Network's Super Soul Sunday was less an interview than the closing of a circle. Bernstein was a successful public-relations princess when her life went spinning out of control. Now, instead of shilling for Manhattan's sceneiest nightclubs, she promotes lessons of spiritual fulfillment to help other young professional women become "the happiest person they know." All Bernstein's missing is Gayle King.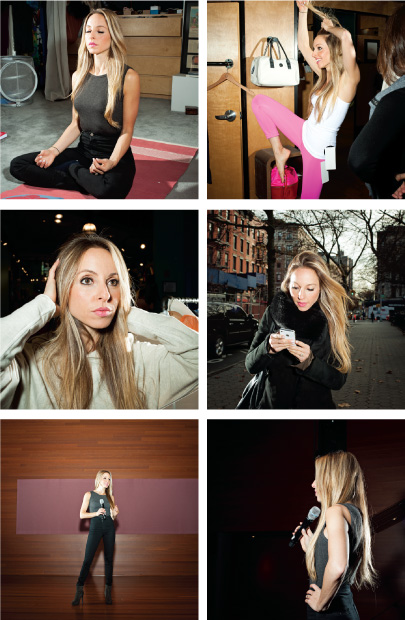 And happily, she's also making a lot of money. In 2010, Americans spent $11 billion on self-improvement products and services, up 13.6 percent from 2005, according to Marketdata Enterprises, an independent Tampa-based research firm. Marketdata's John LaRosa notes that it's an especially popular industry among affluent women on the coasts—Bernstein's target audience. "It became so obvious to me that there was a humongous hole in the world of personal development for the next generation," says Bernstein, who's been on the speaking circuit since 2005. LaRosa agrees. "There's a changing of the guard going on. As many older gurus are nearing retirement, younger, more Web-savvy gurus are emerging—ones who know how to connect with their followers on a more personal level," he says. In seven years, Bernstein has managed to climb her way to the top tier of self-actualization—the Oprah-approved tier. Her third book, May Cause Miracles, out on Jan. 1 (self-help Black Friday), promises readers a six-week "mind cleanse." "My first two books were Amazon bestsellers, and I'm planning for this one to be a New York Times bestseller," Bernstein says, with no trace of the everyday mortal's modesty or fear of jinxes.
Her confidence, while unnerving, isn't unfounded: Bernstein reaches tens of thousands on her weekly Hay House Radio show, charges at least $10,000 per speaking engagement, and hosts monthly paid group-coaching sessions that have grown from 10 people sitting on pillows in her West Village apartment to hundreds sitting on pillows in large yoga studios. She has 42,000 Twitter followers, a YouTube channel, a social networking site called HerFuture, and a partnership with Bliss spas. For $1.99, you can download a Spirit Junkie "alarm clock" app (named for her first book) to awaken you with affirmations like "own your truth." All this while planning a wedding to her banker fiancé.
Bernstein's approach to spirituality is to forgive, meditate, and let go of the fear in your life. A recent coaching session begins with Bernstein, in Isabel Marant jeans, a white T-shirt, and a chunky Lululemon scarf, sitting cross-legged on the floor at the Golden Bridge yoga studio in Downtown Manhattan in front of 100 followers (about 3,000 more are watching online). She introduces the day's topic—"How to get what you want in the New Year"—then launches into a personal anecdote about how "changing my energy helped me change my reality." She goes on to advise her rapt seekers, who are here for free after pre-ordering her book (six-week courses go for $267), "The outside world is a reflection of your internal condition."
Specificity isn't a hallmark of her method, and like any guru Bernstein has her critics. "The spiritual veil has been lifted for me, and my internal guidance system has helped me make the love-centered choice to forgive Gabrielle Bernstein for completely wasting 16 minutes of my life," commented one viewer of a YouTube clip of Bernstein's 2011 TEDxWomen Talk. As Bernstein might say, "Let go and allow."
Bernstein's origin story is comfortingly familiar to her devotees, white-collar women in their 20s and 30s who look and sound a lot like she does. She grew up in the suburban New York town of Larchmont and attended Syracuse University, where she earned extra cash as a party promoter. After graduation in 2001, she and a partner started their own PR firm to promote the trendiest New York City nightlife spots. Her company grew, and by the time Bernstein was 25, she says, she "was addicted to work, food, love, drugs."
One October night in 2005, she prayed for help to whatever deity might be listening and woke up with a jolt of purpose—someone or something was telling her she had to pull her life together. Bernstein got sober, started meditating, and felt what she describes as a cosmic pull toward the teachings of author and lecturer (and now mentor) Marianne Williamson, whose book A Course in Miracles Bernstein cites as her inspiration.
Bernstein then started doing what she'd always done best—getting butts in seats. She picked up girls in the nail salon or on airplanes, giving them advice and handing them her card. Her first lecture attracted 40 people, and eventually her name was being whispered at lunches and spin classes. Her fans were college-educated, upwardly mobile young women in PR, advertising, publishing, and fashion—women who sat in cubicles all day but wanted something more.
Evidence is mounting that workplace factors (such as high job demands, low job control, and lack of social support) contribute to depression. One U.K. study of 972 32-year-olds published in the journal Psychological Medicine found that work stress appears to precipitate diagnosable depression and anxiety in healthy young people. Another study published in 2012 in the American Journal of Epidemiology surveyed 2,700 men and women living in Alberta from 2008 to 2011 who were not depressed. After a year, 4.5 percent of the women had developed depression, vs. 2.9 percent of men. Women who worked 35 to 40 hours per week and reported job insecurity, a high effort-reward imbalance, and work-family conflict were at a higher risk of developing depression. These are Bernstein's people.
"When I first saw Gabrielle, she was leading a lecture called 'Falling in Love With Your Future' at the [elite social club] Soho House," says Arielle Fierman, a 29-year-old jewelry designer and Bernstein superfan. "I was working at a large cosmetics company in the special-events department. I wasn't sure what I wanted, but I knew I wanted to fall in love with my future," she says. "I also wanted to get my foot in the door at the Soho House."
"Many young women feel more comfortable hearing this kind of wisdom from someone who is skinny, pretty, blonde, and rich than they do from an old, wizened Indian guru," says Lilit Marcus, founder of Faith Goes Pop, a blog about the intersection of spirituality and culture. "Bernstein's spirituality isn't threatening. She isn't asking you to give up all your possessions or quit drinking, and that's part of her appeal."
Bernstein has her own theories about why she resonates with her small army of spirit junkies. "For a lot of these high-achieving women, their bucket list is already becoming a reality, but they look at their life and think, 'This isn't what I thought it was going to be.' They want to be successful, but they still want to be happy, and that happiness can only come from within." Fierman's so devoted, she proudly admits she "even ran around Columbus Circle in angel wings during a snowstorm to support [Bernstein's] first book launch."
There's no doubt the person who's done the best job of spreading the word is Bernstein herself. "Gabby is a hustler. She doesn't sit back waiting for the world to discover her brilliance," says Tory Johnson, a business expert who founded the recruiting site Women For Hire. "Many of her competitors are more modest—and their bank accounts are leaner for it."
Bernstein, too, sees no coincidence in her transition from being a PR pro to what she's doing now. "I always say, 'Use what you've got for the next thing you do.' Yes, I'm a teacher of spirituality, but that would mean nothing if I couldn't share my ideas with the public. I would be meditating by myself in a room. It takes a ballsy publicist to put this message out there."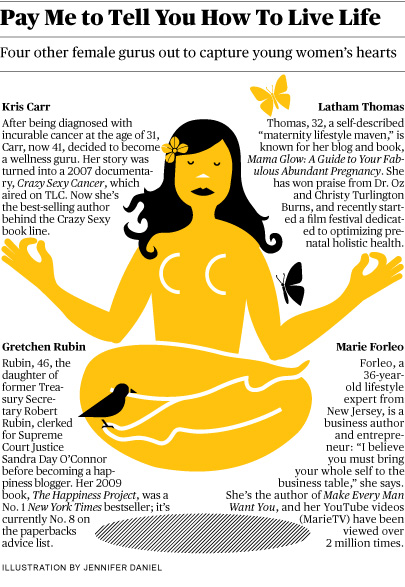 Before it's here, it's on the Bloomberg Terminal.
LEARN MORE