Espn, Google, and Other Ridiculous Baby Names
by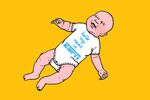 Just when you thought celebrities were the undisputed titleholders of "cruelest baby namers" around—see  "Pilot Inspektor," "Bronx Mowgli," and "Audio Science"—BabyCenter released its annual list of the weirdest of the weird in American toddler monikers. On the male side, amid "Popeye," "Burger," and "Turbo," the names of two companies cracked the list: "Google" and "Espn."
For the survey, "nearly half a million" parents were asked the names of their newborns. In order to make the cut, names must be duplicated at least once. That means there are, at the very least, two infant Googles and two baby Espns living in America right now. (The former is slightly more believable because it's an actual word, not an acronym, though "Eh-spen" does have a better ring to it  than "Entertainment and Sports Programming Network.")
We reached out to representatives at ESPN to congratulate them on their honorary progeny and to get their response to being the 7,720th popular baby name of the year.
"We have a brand campaign that uses the tagline 'It's Not Crazy, It's Sports,' and the fact that people would name their children after ESPN is a testament to how true that is," said the company in a statement provided by spokesman Bill Hofheimer. "It's incredibly flattering, and it just goes to show the great lengths people will go to display their fandom, which makes sports special."
The young Espns will probably never forget it.
Google didn't immediately respond to a request for comment, but we doubt anyone at the company will be surprised by the news. In 2005, Google's official blog ran a photo of a baby who was recently born in Kalmar, Sweden, and named Oliver Google Kai. "We wish him a long life and good health," wrote Karen Wickre of the Google Blog team, "and hope his schoolmates aren't too hard on him."
Before it's here, it's on the Bloomberg Terminal.
LEARN MORE