The Fed Turns Aggressively Dovish With 'Evans Rule'
By and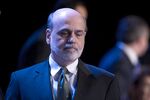 Correction: A previous version of this story said that Philadelphia Fed President Charles Plosser would vote on monetary policy in 2013. He will not.
Wednesday's announcement from the Federal Reserve's Open Market Committee marks a significant escalation (perhaps the biggest to date) in the Fed's efforts to boost the economy. Rather than tying monetary policy decisions to far-off points in time, or signaling its intentions through vague pronouncements about whether the economy is showing moderate or modest growth, policy will now be tied directly to hard, numerical targets.
Namely, the Fed will keep short-term interest rates near zero as long as unemployment remains above 6.5 percent and the inflation it expects in one to two years is no higher than 2.5 percent. That replaces the previous plan to keep rates near zero until mid-2015. Given the slow pace of job growth, the current plan could mean that rates stay super-low past mid-2015.
This is essentially what Charles Evans, President of the Federal Reserve Bank of Chicago, has been arguing for over the last year. Dubbed the Evans Rule, the argument holds that monetary policy shouldn't be tightened until the economy heals pasts a certain predetermined threshold. In a speech delivered in September 2011, Evans made the point that the Fed should be just as aggressive about fighting high unemployment as it is about high inflation. Said Evans:
"Imagine that inflation was running at 5 percent against our inflation objective of 2 percent. Is there a doubt that any central banker worth their salt would be reacting strongly to fight this high inflation rate? No, there isn't any doubt. They would be acting as if their hair was on fire. We should be similarly energized about improving conditions in the labor market."
Michael Feroli, chief U.S. economist at JPMorgan Chase, wrote after the Fed announcement: "The 'Evans rule' had gained increasing support on the Committee in recent months, and it was expected to be adopted eventually, but most—including us—had thought it would not be adopted until early next year. Even so, Bernanke has consistently pushed forward policy innovations faster than generally expected." He said, "We support today's move."
The Fed's decision isn't purely an Evans Rule, which used only the inflation rate and the unemployment rate as guides to policy. The Fed said it will also consider other information, including additional measures of labor-market health.
The Fed also chose to keep buying $45 billion of Treasuries per month in 2013, replacing the expiring Operation Twist with an equally accommodating expansion of QE3. The difference, however, is that the Fed will no longer sell short-term securities to balance out its purchases of long-term securities. That means its balance sheet will start to rise again next year.
The FOMC also slightly downgraded its expectations (PDF) for the economy next year. It now expects U.S. gross domestic product to grow somewhere between 2.3 percent to 3 percent in 2013, down from its previous forecast of 2.5 percent to 3 percent. Its 2014 growth forecast was lowered from a range of 3.0 percent to 3.8 percent to one between 3.0 percent to 3.5 percent.
The big picture here is that the Fed has to use unorthodox tools to keep the Fed Funds rate as low as it possibly can. Buying long-term bonds is one tool it's using—$85 billion a month worth. Another tool is to signal that it's not planning to take its foot off the gas. Businesses and consumers—but mostly businesses—will be more willing to take the plunge on hiring and investment if they're sure that the Fed won't leave them high and dry by quickly cutting off monetary stimulus as soon as the economy gains a little strength.
It's worth pointing out that even though the Fed is getting more dovish, Fed Chairman Ben Bernanke hasn't lost any support from the FOMC's hawks. The active dissenter, Richmond Fed President Jeffrey Lacker, will cease to be a voting member next year.
"Doves rule at the FOMC," summed up Marc Chandler, global head of currency strategy at Brown Brothers Harriman. "The Federal Reserve was as aggressively dovish as anyone expected."
Before it's here, it's on the Bloomberg Terminal.
LEARN MORE