business
These Christmas Trees Have Frequent Flier Miles
Some Christmas tree growers are using mail order sales to reach customers across the U.S.
By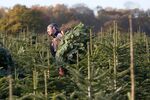 People are finicky about their Christmas trees. For some, that holiday staple must hail from Wisconsin. That's where Wayne Raisleger comes in. He's been FedExing Wisconsin trees from his Windswept Tree Farm to customers across the nation since 1999.
"A lot of my customers are ex-Wisconsin residents," he says, noting that he's shipped to at least 40 states. "They're used to quality Christmas trees but are unable to get them, if they live in, say, Georgia, or Coral Gables, or the Los Angeles area, or what have you."
Raisleger, who with his 23-year-old daughter runs the site ChristmasTreesNow.com, says orders have tripled over the past two decades. These days he sends out hundreds of trees each holiday season, for $75 a pop, plus shipping. Many of his customers are urbanites from Chicago and New York. "For them, it's a question of convenience," he says. It's also among their only options for buying a freshly cut pine. Many Christmas trees sold on city street corners, Raisleger points out, are cut anywhere from six weeks to two months in advance. "I get calls from people who say they bought their tree and within a couple days the needles started falling off," he says.
Still, the mail-order tree business isn't for the faint of heart. Raisleger has a good deal of competition, not only in Wisconsin, but also from other big Christmas tree-growing states such as Michigan. There are also some unique challenges. Packaging, for example.
"Every tree is different—just like every person is different—and here I am, I have to package a very nonstandard Christmas tree into a standard-size box," says Raisleger. He solved the problem by making his own boxes. "We buy huge [cardboard] blanks that are like 100-inch x 100-inch squares, and we start making boxes in early November," he says. "In packing the trees, you have to be very attuned to the branching, the configuration, the density—and if the tree is too cold, the limbs can snap off."
The cost of shipping varies from state to state. Shipping a tree via FedEx from Wisconsin to Florida or California costs roughly $65, while shipping to Texas costs about $40. Last minute buyers, of course, pay a lot more. "Invariably I get an order or two around the 20th, when someone wants a tree air freighted by FedEx," says Raisleger. "I'm serious. Last year there was a fella in North Carolina. I think the tree was like $75 and the FedEx Air was like $225."
Raisleger also keeps his eye out for tree scams. "Every year I have at least one fraudulent order on a stolen credit card," he says. "This year, one of my first ones, right off the bat, was somebody from New York who ordered a tree to be delivered to Miami."
A much more serious problem, which affects both online and offline sales, is the weather. This year Wisconsin, along with other Midwest states, suffered the worst drought since 1988. According to Donna Gilson, a spokeswoman for Wisconsin's Department of Agriculture, Trade & Consumer Protection, thousands of trees were wiped out. "We inspected 212 of our licensed growers this year—that was 446 fields," she says. "What we found was that 97 fields had drought damage, meaning that that they had 40 percent or more mortality rates." The trees that did survive, she notes, were typically older trees, with deeper root systems.
Windswept Tree Farm suffered immensely. "I got to tell ya, I have partnerships with a couple growers—and I grow right here too—and we've lost everything we planted this spring," says Raisleger. "We're talking thousands and thousands and thousands of trees."
Christmas trees normally take six to eight years to mature, which means we won't see repercussions from the drought this year. We may, in fact never see any at all, if growers can manage to make up for their loss in coming seasons. "Those farms in Wisconsin, they might plant twice as many trees next year, and they might grow twice as fast in 2015 or 2016," says Rick Dungey, a spokesman for the National Christmas Tree Association. "The trees also might be ready to harvest at 5 feet tall, or maybe they're going to wait for them to be harvested at 8 feet tall," he says.
Raisleger isn't so sure. "I'm not going to say that there's going to be a shortage of trees, because there are trees growing in other parts of the country," he says. "But I think that quality might be diminished somewhat—I was just looking at my home plantation here, and some of the trees are still turning brown, and we're into December now."
Before it's here, it's on the Bloomberg Terminal.
LEARN MORE