These Christmas Trees Have Frequent Flier Miles
Some Christmas tree growers are using mail order sales to reach customers across the U.S.
By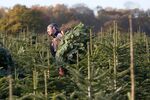 People are finicky about their Christmas trees. For some, that holiday staple must hail from Wisconsin. That's where Wayne Raisleger comes in. He's been FedExing Wisconsin trees from his Windswept Tree Farm to customers across the nation since 1999.