Ivory Tower Pay and Perks Are Doing Fine, Thank You
By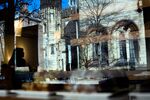 It's troubling enough that colleges are larding on administrators at a time when tuition costs continue to rise faster than inflation. But now comes a report from the Chronicle of Higher Education that says private universities are ladling out some of the same over-the-top executive perks that many corporate boards dropped after chief executive pay scandals.
The Chronicle published on Sunday its survey of top-paid presidents at private colleges. Topping the list, with total compensation of $3 million, is Bob Kerrey, who left the New School in New York City at the end of 2010 for an unsuccessful attempt to win back his old Senate seat from Nebraska.
1. J. Robert Kerrey (New School) $3.047 million
2. Shirley Ann Jackson (Rensselaer Polytechnic Institute) $2.340 million
3. G. David Pollick (Birmingham-Southern College) $2.312 million
4. Mark Stephen Wrighton (Washington University) $2.268 million
5. Nicholas S. Zeppos (Vanderbilt University) $2.228 million
Median pay for the 493 presidents in the survey came to $396,649, up 2.8 percent over 2009. That includes salary, bonuses, and deferred pay. But according to the Chronicle, it also includes a practice called "grossing up." Many of the college presidents (though not Kerrey) received cash payments to cover taxes they owed on their pay and other perks. As the article notes, grossing up "has fallen out of fashion at many publicly traded companies, where boards have decided the perk is simply not worth the shareholder outrage it can invite."
It was only after stock returns faded that shareholders got their backs up about some of the most outrageous CEO pay packages. Students are now responding in a similar fashion to the prospect of supporting gold-plated pay packages through rising tuition and student loans.
Before it's here, it's on the Bloomberg Terminal.
LEARN MORE