Crowdfunding Is About to Get More Crowded
Crowdfunding pioneers brace for a new wave of competition
By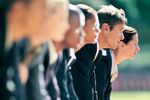 When Medigram, a Silicon Valley startup that makes a messaging app for medical professionals, wanted to raise money earlier this year, it enlisted the help of Microventures. The online marketplace, also based in the Valley, quickly lined up "hundreds of thousands" of dollars from about 20 individuals, says Medigram's co-founder and chief executive officer, Michael Chiu. He credits the website, which connects investors to entrepreneurs, with making the fundraising process "a lot more streamlined" than having endless meetings with venture capitalists.
Microventures says it's the first U.S. marketplace to use a crowdfunding model to sell equity stakes in private companies to wealthy investors. To do that, it had to register as a broker-dealer. Since closing its first deal in 2011, Microventures has handled more than $8 million in equity sales through 25 completed private placements and has six more in motion, according to CEO Tim Sullivan. Other, far bigger sites such as Kickstarter and Indiegogo, which have raised hundreds of millions of dollars for creative projects and business ventures, don't offer ownership positions or financial returns, though backers sometimes receive gifts.
Microventures is going to get some competition, thanks to the Jumpstart Our Business Startups Act President Obama signed in April. The new law may permit almost anyone to buy shares in private companies advertised on crowdfunding sites. The Securities and Exchange Commission is drafting rules for the fledgling industry. Indiegogo co-founder and CEO Slava Rubin thinks the equity model could "complement" his "perks-based" model.
"When I started Microventures, I said, 'Why isn't anyone doing this?' " recalls founder and President Bill Clark. His answer? Beyond the "hard work" involved in complying with securities laws, "if you're doing a deal for $250,000, which is our average deal, there's not a lot of meat left on the bone for a broker-dealer who is used to making $500,000" in fees per deal.
Another equity stakes crowdfunding site, CircleUp, launched in April in San Francisco and is partnered with broker-dealer WR Hambrecht. It's done six deals averaging "around $1 million" and charges companies a commission "in line" with investment banks, says co-founder and CEO Ryan Caldbeck.
The SEC has been studying crowdfunding companies. The agency "has come in and asked us a lot of questions," says Microventures' Sullivan. Among other things, regulators are interested in the firm's due diligence process, which screens out "fly-by-night operations."
The securities industry regulator's rules are due by yearend, though many across the industry expect the agency to miss its deadline. "We did say at the time that the deadline in the statute would be challenging," Meredith Cross, director of the SEC's Division of Corporation Finance, said at a Nov. 15 forum for small businesses, "and it is."
Stephen Graham, a managing partner at law firm Fenwick & West, thinks it will be the crowdfunding sites themselves and fast-growing startups that will reap the biggest benefits from the new provisions. Once the regulations are in place, "you're going to have a compliance regimen and a need for securities law expertise," says Graham. The additional financial burden will "shut out" Main Street businesses, "whether it's a beauty parlor or a gas station," he adds.
The potential for fraud remains the biggest concern for regulators. "You're going to have people investing in companies that weren't able to get the VCs' attention, that weren't of the quality a VC was looking for," says Lynn Turner, a former chief accountant at the SEC who opposed the legislation. "Then you're going to let the leftovers go try to raise a lot of money via crowdfunding, and they can do it without putting up the necessary warnings and disclosures to investors. That's really stupid."