France's Nationalization Threat Ignores Steel Glut
By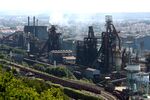 France's threat to nationalize a steel mill to prevent job losses is shaping up as a public relations disaster for the government—with potential collateral damage to the European steel industry as well.
President François Hollande's Socialist government says it may take temporary control of the Hayange-Florange plant in Lorraine to prevent its owner, ArcelorMittal, from eliminating about 630 of 2,700 jobs at the site. Industry Minister Arnaud Montebourg told Parliament on Nov. 28 that the government had already found a potential buyer for the facility, which ArcelorMittal does not want to sell. The transaction would involve "a temporary nationalization" and resale, Montebourg said.
Talks between the government and the steelmaker are continuing after a Nov. 27 tête-à-tête between Hollande and Chief Executive Lakshmi Mittal at the Elysée Palace failed to produce an agreement.
The showdown has sparked an uproar extending well beyond France's borders. In a Nov. 26 newspaper interview, Montebourg said, "We don't want Mittal in France," and accused the company of breaking earlier promises to protect jobs. Lakshmi Mittal's family told Le Monde it was "extremely shocked" by the comment. London Mayor Boris Johnson, who happened to be visiting Mittal's native India at the time, told a group of Indian businessmen: "If France doesn't want you, Britain does."
Nationalization of private companies was abandoned decades ago by most major economies—including France, where it was last used by Socialist President François Mitterrand in the early 1980s.  Its resurrection, along with the government's attacks on Mittal, aren't likely to help French efforts to reverse a slump in foreign investment. According to the United Nations, foreign direct investment in France last year totaled $40.9 billion, less than half the figure five years ago. Even the left-leaning Paris newspaper Libération wondered in a Nov. 27 article whether nationalization was "really a good idea, or mission impossible?"
Underlying the Florange dispute is a big problem facing European steelmakers: Too much production capacity is chasing too few customers. Producers such as Luxembourg-based ArcelorMittal and Germany's ThyssenKrupp (TKA:GR) collectively sell about 150 million tons of steel per year, utilizing only 71 percent of their capacity, says Seth Rosenfeld, an analyst at Jefferies International in London.
The excess capacity "reduces their pricing power" and weighs on profitability, Rosenfeld says. ArcelorMittal on Oct. 31 reported its lowest quarterly profit in almost three years.
With steel demand slumping almost everywhere in the world except China, other producers are struggling to cut capacity. ThyssenKrupp is trying to sell mills in the U.S. and Brazil, and Russia's Novolipetsk Steel wants to downsize its mill at Louvière, Belgium.
Against that backdrop, transferring ownership of Florange to another company "continues the situation of having excess steelmaking capacity," Rosenfeld says. "The government has a short-term view toward job preservation, rather than a longer-term view toward allowing the steel industry to remain profitable."
ArcelorMittal wants to close two blast furnaces at Florange that are already idle, while continuing to operate other factories at the site. Taking those factories away from ArcelorMittal would disrupt its supply chain, jeopardizing "substantially more jobs" among the 20,000 the company employs in France, says Charles Bradford, an independent steel industry analyst in New York. "Arcelor has an integrated setup, some plants feed other plants," he says. Without supplies from Florange, "other mills would have to close because they wouldn't have the feedstock."
Before it's here, it's on the Bloomberg Terminal.
LEARN MORE