Away from Scranton, Dunder Mifflin Thrives
By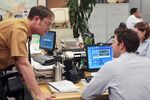 A year after online office-supply retailer Quill.com launched a line of printer paper under the label Dunder Mifflin, named after the fictional manufacturer from the long-running NBC sitcom The Office, the Staples subsidiary just announced it will be expanding the paper brand to include other office supplies: co-branded markers, sticky notes, tissues, disposable cups, storage boxes, and notepads.
While the fictional Scranton (Pa.) manufacturer may have struggled as a third-rate company comprised of lovable, if hapless, dolts, the Lincolnshire (Ill.)-based Quill has built Dunder Mifflin (in a licensing deal with NBCUniversal) into a million-dollar brand. It is the site's third-bestselling product, says Vice President of Merchandising Sergio Pereira, who refused to reveal his top-sellers.
This is not the first time a brand has successfully crossed the chasm from fiction to reality. Some lucrative "reverse product placements" include Bubba Gump Shrimp, the national restaurant chain based on the 1994 film Forrest Gump, and the candymaker Willy Wonka, which drew its name from Roald Dahl's Charlie and the Chocolate Factory and the 1971 movie adaptation that starred Gene Wilder.

But Quill's decision to double-down on Dunder Mifflin may seem poorly timed. The Office is hardly at the peak of its popularity: Now in its final season, it had the lowest-rated season premiere in September and tied for a series low in mid-November, with a 2.0 rating and 4.1 million viewers. The art and office supply manufacturing industry is in decline as well, which is attributed to companies leaving the industry rather than entering it, says Dale Schmidt, an industry analyst at market researcher IBISWorld. Revenue at U.S. office supply stores declined by an average 3.6 percent annually over the last five years, according to the firm. Through 2017, revenue in the U.S. office stationery manufacturing industry is projected to decrease at an annualized rate of 1.5 percent.
Pereira isn't discouraged. He aims to make Dunder Mifflin a popular brand among small businesses. "There is very long life to the followers of this show and a very long life for the brand," he says, pointing out that The Office will still air in syndication. "Take a look at low long, for example, the Olsen twins were able to extend their brand." Because businesses are printing less, he says, "it's important to create differentiation."
Before it's here, it's on the Bloomberg Terminal.
LEARN MORE