Bid & Ask: The Deals of the Week
Noteworthy expenditures of the week
by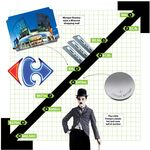 1. Seeking to cut costs and streamline operations, London-based HSBC Holdings is in talks to sell its $9 billion stake in China's Ping An Insurance.
2. Terra Firma Capital Partners, the firm founded by financier Guy Hands, is buying residential property company Annington Homes from Nomura International in a deal worth $5.1 billion.
3. Turkey sold 24 percent of Halkbank for $2.5 billion, a sign that the country is attracting investment after its economy grew 8.5 percent last year.
4. Cisco Systems, the world's No. 1 maker of computer networking equipment, will pay $1.2 billion for San Francisco-based Meraki to add technology that helps businesses manage Wi-Fi networks remotely.
5. Morgan Stanley is close to buying and expanding the Metropolis shopping mall in Moscow in a deal valued at more than $1 billion, according to three people with knowledge of the talks.
6. Chengdu Tianqi Industry Group, a Chinese manufacturer of battery chemicals, made an unsolicited $675 million offer for Australia's Talison Lithium, trumping a bid from Rockwood Holdings of the U.S.
7. France's No. 1 retailer, Carrefour, is selling its 60 percent stake in its Indonesian unit to local partner CT Corp for $671 million. Carrefour is also exiting Singapore, Greece, Malaysia, and Colombia as part of a turnaround plan.
8. Canada's Hudson's Bay, the 342-year-old retailer that was taken private in 2006, raised $366 million by selling an 18 percent stake in a public offering.
9. Germany's government agreed to sell the residential arm of real estate management company TLG Group for about $275 million to reduce its deficit.
10. A felt bowler hat and bamboo cane, staples of Charlie Chaplin's Little Tramp costume, fetched $62,500 at auction in Los Angeles.
Before it's here, it's on the Bloomberg Terminal.
LEARN MORE