business
Need Health Care? Start a Clinic
By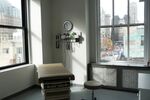 At the new medical clinic opening next week in Downtown Brooklyn, sunlight streams in from the fourth story windows, a counter in the wide reception area is stocked with free nutrition bars and bottled water, and off to the left is a yoga studio with maple floors.
The 6,000-square-foot space isn't some boutique concierge practice. It's the first attempt by the Freelancers Union, which has long helped freelance workers get insurance, to provide medical care directly. "Our ultimate goal is to get our members the best health care possible," says Sara Horowitz, founder of the group. "That's really our north star."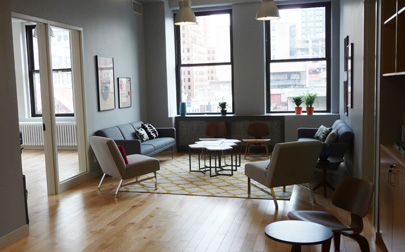 For most of the past decade, that meant pooling freelance workers—contract workers, consultants, and self-employed business owners—to buy health insurance at group rates. Four years ago, the nonprofit started its own Freelancers Insurance Co., with $17 million in grants and loans, that now insures 25,000 New Yorkers. The new clinic, Freelancers Medical, will provide free care and wellness programs to freelancers on the plan who choose the clinic's doctors as their primary care physicians.
"They're offering enrolees very sharply discounted primary care if they get it from the plan's own clinic," says Paul Ginsburg, president of the Center for Studying Health System Change in Washington, D.C. "Presumably they believe enough that better access to primary care will actually reduce costs by having less specialty care and less hospitalization."
The clinic will have two doctors, a nurse practitioner, a nurse, a social worker, and four health coaches. Horowitz aims to tame costs by having primary care doctors guide patients when they need further treatment. "We see our members through the data getting certain care that is probably not the best, and it's certainly extremely costly," she says. For example, she says, using general anesthesia for a colonoscopy when lesser sedations are sufficient can add thousands of dollars to a patient's bill.
While the cost of employer health plans is projected to increase 6.3 percent next year, according to benefits consultant Aon Hewitt, Freelancers Insurance Company isn't raising rates. Monthly premiums range from $225 for a high deductible plan to $603 for the most comprehensive plan, or from $630 to $1,687 for families. Even those on high-deductible plans can get primary care for free if they join the clinic.
Horowitz says that will encourage people to get routine care who might otherwise skip it because of the cost. The yoga, cooking classes, and other wellness activities are also meant to keep people in better health. "I am a committed meditator," Horowitz says. "I know, and the medical data is in, that for high blood pressure you should learn how to meditate."
The precedent for unions providing health care dates back to the early 20th century, before health insurance became a common benefit offered by employers during World War II. (A handful, like the century-old Union Health Center in Manhattan, still exist.)
Aside from the clinic, Freelancers Union will also be expanding the reach of its health plans: The group is getting $340 million in financing through the Affordable Care Act to design nonprofit plans for consumers in New York, New Jersey, and Oregon that will compete with other insurers in the state health exchanges beginning in 2014.
For Freelancers Medical, Horowitz's immediate goal is to recruit 3,000 patients the first year, and she says more than 600 signed up in two weeks of marketing. If it succeeds, she says, other clinics will follow. It's another step to helping freelance workers, who are accustomed to a hardscrabble health-care search, get what they need. Says Horowitz: "This is solidarity in action."
Before it's here, it's on the Bloomberg Terminal.
LEARN MORE