Oh, the Places You'll Go!
A look at post-graduation pay for the Class of 2012
Louis Lavelle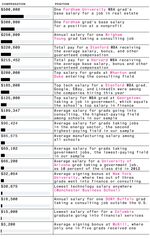 (Deletes references to total pay and average signing bonus at the Hong Kong University of Science & Technology and to the salary earned by the highest-paid MBA graduate at Manchester Business School.)
The MBA Class of 2012's post-graduation pay by the numbers.
Before it's here, it's on the Bloomberg Terminal.
LEARN MORE