Will Spain Accept an ECB Bailout?
The prime minister won't commit to a rescue by the ECB
by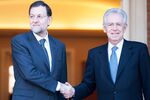 Is Mariano Rajoy a shrewd negotiator, or a hapless gambler? That's the question as Europe waits—and waits—for Spain's prime minister to say whether he'll accept a bailout for his country's crippled economy.
When European Central Bank President Mario Draghi offered on Sept. 6 to buy unlimited amounts of Spanish government debt in exchange for austerity and economic reforms, Rajoy said he needed time to study the proposal. Then it seemed he might postpone a decision until late October, to avoid a possible anti-austerity backlash during regional elections earlier that month. Rajoy is still deliberating. "Sometimes the hardest decision is not to take any decision," he told Parliament on Oct. 31.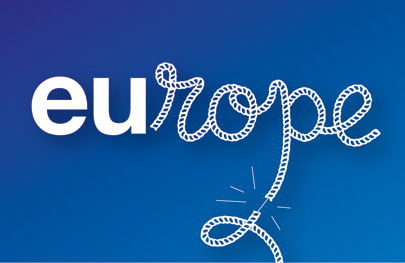 Rajoy may be hoping to broker better terms. In a Nov. 6 radio interview he said he wanted the ECB to specify in advance how much Spain's borrowing costs would decline if it accepted a bailout. ECB purchases of Spanish bonds would "make little sense" if costs didn't come down significantly, he said. Yet dictating yield rates "goes beyond what the ECB can do," says Silvio Peruzzo, European economist at Nomura International in London. "There seems to be a misunderstanding of how this [bond-buying] tool would work."
The risk is that Rajoy's hesitation could cost Spain its investment-grade credit rating—pushing its borrowing costs still higher. The prospect of a European rescue helped lower yields on Spain's benchmark 10-year bonds, which hit a record 7.75 percent in July. Now, since reaching a recent low of 5.29 percent on Oct. 19, yields on 10-year bonds have crept back up to 5.66 percent. Moody's has warned it will cut Spain's rating, now one notch above junk, if the bailout doesn't materialize. A sovereign downgrade would trigger ratings cuts for Spanish corporate borrowers as well, says Dominic White, European economist at Absolute Strategy Research in London. That in turn would intensify the credit squeeze in the private sector.
Spanish unemployment rose to 25.8 percent in September, and industrial production has declined for 13 straight months. The European Union said on Nov. 7 that efforts to close Spain's budget deficit had "hardly advanced" and that the shortfall would reach 8 percent of gross domestic product this year, well above earlier forecasts. "Structurally, Spain is still deteriorating," says George Magnus, a senior economic adviser at UBS in London. Madrid will need to borrow some €200 billion next year. Without a bailout investors will "fade away," Magnus says.
In the end, German politics will likely force Rajoy's hand. Until now, Chancellor Angela Merkel has stayed on the sidelines while others—notably Italian Prime Minister Mario Monti—have pushed Spain to act. But Merkel must have approval from her fractious Bundestag for any rescue package, since in any bond-buying program the ECB would work with the new European Stability Mechanism, to which Germany would contribute. With German federal elections coming up next fall, Merkel's likely to turn up the heat on Rajoy if he doesn't resolve the situation quickly.
Rajoy's own countrymen are starting to doubt his brinksmanship. A research institute linked to the employers lobby called in late October for swift action on an ECB bailout, warning, "The longer we wait, the more difficult and drastic it would be." El País, the leading paper, has endorsed a rescue. Rajoy has been relying on the good will of Spanish banks to keep buying government debt, but their appetite may be limited. Banco Santander, the top bank in Spain, reported on Oct. 25 that its holdings of Spanish public debt were worth €30 billion, down 14 percent from the previous quarter.
While Spanish voters may loathe the prospect of more austerity, the prospect of being locked out of financial markets could be worse. A recent cartoon on a Spanish news site shows the prime minister clinging to the edge of a cliff, with a perplexed ECB banker staring down at him. "Just give me a minute," Rajoy says. "I need to do some calculations … on my fingers."
Before it's here, it's on the Bloomberg Terminal.
LEARN MORE