Will London Lose Power to a Euro Bank Bloc?
A banking union on the Continent threatens the City's primacy
By , , and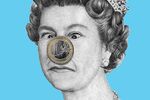 In what would be the first step toward a European banking union, the European Central Bank will become the main regulator for the biggest banks in the 17 nations that use the euro as their currency as soon as Jan. 1. Britain, a member of the European Union, chose not to join the euro zone when it was established in 1999, and has said it won't take part in a banking union. That decision risks isolating London from its major trading partners and undermining its status as the world's top money center. "If there is a European banking union and a notable missing member of that is the U.K., then that will likely hurt London as a major financial market," says Jay Ralph, a management board member at Munich-based Allianz, Europe's largest insurer.