business
Volunteerism as a Core Competency
Ranking America's community-minded companies
By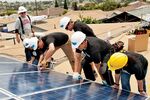 When Stanley Litow helped set up IBM's Corporate Service Corps, a community service program that doubles as a leadership academy, he never anticipated how popular it would become. Since its inception five years ago, the Corps has fielded more than 200 teams of about a dozen volunteers each. The program's month-long assignments have included modernizing Kenya's postal service and helping design an online education program in India. With thousands of employees vying for its 500 spots each year, the Corps has become a coveted perk: Alumni say it's bolstered their job performance, skills, and desire to build careers at IBM, according to an internal survey. "This isn't just about growing the business," says Litow, who leads the company's citizenship and philanthropic efforts. "It builds on our expertise."
IBM's 430,000 employees spent 3.2 million hours volunteering last year, honing skills while building goodwill. From P-Tech, a public high school in Brooklyn where students can earn an associate degree in computer science, to a global grid that pools unused computer processing power for the benefit of researchers, the company makes sure its philanthropic efforts align with its business objectives. That's why IBM takes the top spot in The Civic 50, a new scorecard on America's community-minded companies produced by Bloomberg LP in partnership with the National Conference on Citizenship and Points of Light, two nonprofits promoting volunteerism. Along with measuring community impact, "we want to see how well companies leverage the time and talent of their employees," says Points of Light executive Jackie Norris.
Wall Street firms are under pressure to rebuild their credibility in the wake of the financial crisis, and Citigroup, Bank of America, Morgan Stanley, and other finance firms have 10 spots on the 50-company list. Citi and Capital One Financial have both tapped their in-house expertise to promote financial literacy; money-transfer giant Western Union supports microfinance programs.
Whether it's FedEx delivering emergency medicine to disaster areas or Aetna tackling the health ailments of underserved communities, projects have more impact when they draw on a company's strengths. Since it launched a bold push last year to curb obesity in its hometown of Camden, N.J., Campbell Soup has freed up staff to design school menus and fresh produce displays for local stores. It also granted a food bank access to its production lines to turn wilting donations into 54,000 jars of peach salsa that raised $100,000.
A big donation, while laudable, isn't the same as a corporate campaign. Facebook founder Mark Zuckerberg got plenty of kudos for donating $100 million to help fix schools in Newark, N.J. But Facebook itself doesn't have a formal initiative to harness employees' brainpower to transform education. Contrast that with AT&T: It's invested more than $100 million in education, and its employees have contributed 270,000 hours to a program that has high schoolers shadow AT&T workers. More than 1 million students have participated, the company says.
Of course, some balk at the idea that corporations can or should aspire to be good citizens. Shareholders want the bottom line to come first, and workers might prefer to devote their free time to causes not tied to an employer's agenda. Even those who do participate in company programs are often reluctant to brag about it. Southwest Airlines, long known for the civic-mindedness of its staff, had such a hard time getting employees to tally their volunteer hours that it came up with "Tickets for Time." Southwest employees earn free airline tickets for their favorite charities by documenting how much time they spent volunteering for them. Marilee McInnis, senior manager of community relations at the Dallas-based carrier, says that within a year of the program's introduction, the number of recorded hours notably increased. "It feels awkward to volunteer and then brag about it," says McInnis. "We had to turn it into another way of giving back."
Before it's here, it's on the Bloomberg Terminal.
LEARN MORE