Tim Tuttle's App for Automatic Search
An App That Reads Your Mind
by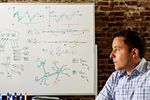 After getting a Ph.D. from the Massachusetts Institute of Technology's Computer Science and Artificial Intelligence Lab in 1997, Timothy Tuttle never imagined it would take nearly 15 years for his education to find real-world relevance. Two years ago, he co-founded San Francisco-based Expect Labs to build software for a time when humans no longer hunt down information by typing queries into a text box on a PC. Instead, Tuttle sees the day coming when searches take place automatically in real time based on things people are saying and doing.
This fall, Expect Labs is releasing MindMeld, a free app that adds the company's voice-powered search technology to the iPad's videoconferencing capability. During a conversation between as many as eight people, the app picks up keywords and uses GPS to provide relevant, location-targeted information in an on-screen panel. "We're attempting to glean insight by seeing where you are, seeing who you're talking to, and listening to what you say," Tuttle says. "We then use all that information to try and find stuff in advance of you actually needing to ask for it."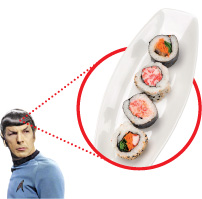 For example, if a group is planning to meet for sushi in Las Vegas, the panel will be populated with restaurant listings, reviews, and reservation options. Or if an executive is conducting a job interview by videoconference, the candidate's LinkedIn profile and related Web links would fill the screen.
Tuttle decided against a career in academia and started his first company, Bang Networks, which made high-performance networking devices, in 1999. When that company fizzled, he co-founded video-search company Truveo, which was acquired by AOL in 2006. He left two years later to plot his next act. To get MindMeld off the ground, Tuttle raised $2.4 million in October from investors including Google Ventures and Greylock Partners. Karim Faris, a partner at Google Ventures, says advances in artificial intelligence and processing power have made the time ripe for Tuttle's technology. "This area of anticipatory computing has been in the realms of science fiction for a very long time," he says.
Initially, MindMeld will draw publicly available information from sources such as Facebook and Wikipedia. Early next year it will start integrating services such as Google Docs and cloud-storage outfit Dropbox so users can pull up documents and presentations during conversations.
Tuttle says that to succeed long term, though, he needs to advance the technology from the app to a tool that companies can plug into their communications systems, letting them access proprietary data. For example, doctors could use it to talk with patients, or business managers could utilize it for remote performance reviews. In essence, he wants to develop the conferencing system of the future. "We're trying to show people what's possible," he says. "If companies want to build their own version of a videoconferencing app with our anticipatory computing engine, they could do that very easily."
Before it's here, it's on the Bloomberg Terminal.
LEARN MORE