The Coming War Over Wireless Charging
Charging stations are on the way, and companies are lining up behind competing technologies
by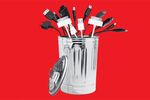 New York Knicks season-ticket holders flocking to Madison Square Garden this year will participate in a corporate giveaway that will be closely watched far beyond the NBA. Some 5,000 Knicks fans will get specially designed smartphone cases that will allow them to charge their iPhones wirelessly from 550 charging spots in the arena's corporate suites and eighth-floor viewing area. Procter & Gamble and other companies underwriting the promotion hope it helps usher in an era in which people's mobile devices become cord-free appendages.
Although the consumer demand is potentially huge, wireless charging has been slow to take off. There are currently fewer than 10 million devices in circulation in the U.S. able to charge wirelessly, mostly phones and accessories, according to researcher IHS. But as the technology has improved, that's changing. Global shipments of wirelessly charged devices are projected to rise from 5 million units this year to nearly 100 million by 2015, according to IHS.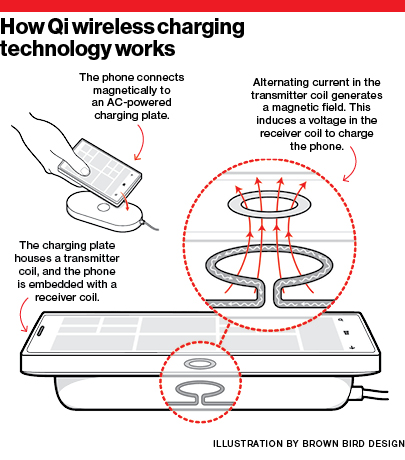 Mobile-device makers will sell wireless charging stations along with their phones. They and other consumer products companies such as Duracell Powermat (a joint venture between Procter & Gamble and wireless charging technology provider Powermat) also will offer stations in cell carriers' stores and through other retailers. Makers of phone accessories plan to cash in as well, while tech companies such as Intel hope to profit by providing their charging systems to others. And suppliers of phone components may earn extra revenue from handset manufacturers and from sales of charging stations to automakers and other companies, says Eric Giler, chief executive officer of WiTricity, which licenses its wireless charging technology to chipmaker MediaTek. Meanwhile, Madison Square Garden, Starbucks, Delta Air Lines Sky Clubs, and other venues are starting to embed charging stations into tables and bars as a service for their customers and for the cachet of providing a cutting-edge technology.
Wireless charging-enabled phones contain a coil that receives electricity via a magnetic field emitted by a similar coil embedded in a charging surface located a fraction of an inch to a few feet away. The charging time is comparable to wired connections. Problem is, there isn't yet a common standard, so enabled phones won't work with every charging surface. "This is not going to endear this technology to anybody," says William Stofega, program director at researcher IDC. "It just creates a headache."
Industry giants from Google to Samsung Electronics are trying to push their own technology into the mainstream. Without one accepted standard, though, companies run the risk of investing in products that may be obsolete in a couple of years. "You can imagine the internal discussions we've had," says Kevin Berger, a manager at Delta Air Lines, which is market-testing one technology at Sky Club lounges in New York. "We call it the Betamax/VHS discussion." Still, "if the final standard ends up being compatible with what we've already done, we're way ahead of the game," Berger says.
Duracell Powermat paid the hardware costs for the Delta and Madison Square Garden wireless charging systems. "We are making investments in marketing and retail infrastructure at the level of hundreds of millions of dollars," says Ron Rabinowitz, CEO of Duracell Powermat. "Nobody is as committed." The joint venture is part of the Power Matters Alliance, which supports a format known as PMA. Google, AT&T, and Starbucks joined the alliance in late October. Duracell Powermat has also launched an ad campaign in New York featuring Jay-Z and is making wireless charging cases and surfaces available in stores such as Best Buy and Wal-Mart Stores in certain markets.
The alliance's biggest rival is the Wireless Power Consortium, with members including LG Electronics, Energizer, and Nokia. Called Qi, the consortium's technology is already built into numerous accessories and three phones now or soon to be available in the U.S.: the Google Nexus 4, LG Spectrum 2, and Nokia Lumia 920. "It will be pointless to have transmitters that do anything else," says WPC Chairman Menno Treffers. "The other companies are trying to get a piece of this market, and it's too late to do that." The first North American cars with Qi built in could come out in mid-2013, says Peter Hoehne, vice president of sales and marketing worldwide for Leggett & Platt, which provides wireless charging stations to automakers' parts suppliers. "When they do put it in a car," Hoehne says, "it's going to be pretty big volume."
Then there's Samsung. The world's largest phonemaker and 19 other companies are backing yet another challenger, Alliance for Wireless Power (A4WP), which in late October announced its own technical specifications for wireless charging. "The market opportunity is wide open," says Kamil Grajski, president of A4WP. "The wireless industry is full of examples where original-equipment manufacturers have started down one technology path only to find out they need to quickly change."
The first charging stations based on the technology should come out next year. And Intel said in August that it's working with a partner to make components that enable mobile phones to wirelessly charge from a laptop. The company hasn't said when the first chargers using the technology will become available.
To hedge their bets, some automakers and other companies are testing multiple standards. Others are embedding several technologies into their gear. The ultimate winning standard of wireless charging may not emerge until at least 2014, says Jason dePreaux, principal analyst at IHS. What could tip the scales is the maker of the world's most popular smartphone, Apple, which has yet to back a standard.
For its part, Madison Square Garden plans to sell PMA-based wireless charging cases in the arena's shops—and to monitor the wireless charging battle closely. "It's cutting-edge technology. We know it's going to change and improve," says Greg Economou, an executive vice president at MSG Sports. "We'll stay extra vigilant. We know the world changes."
Before it's here, it's on the Bloomberg Terminal.
LEARN MORE