Sharp's Profits on LCD Panels: Worse Than Flat
Japan's No. 1 maker of LCD screens warns its operations could halt
by , , and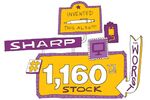 Kameyama, a town of 50,000 people in central Japan, boomed when Sharp started making liquid-crystal-display panels there in 2004. Sharp, which dominated the industry with a 22 percent market share in LCD TVs, poured $6.6 billion into Kameyama, building two state-of-the-art factories and creating 3,000 jobs. Then Samsung Electronics began driving down prices—for 40-inch LCD panels, they fell from about $2,700 at the beginning of 2004 to $250 early this year. Samsung's market share soared, to 29 percent in 2012 from 10 percent in 2004, and Sharp saw its share plunge to 5 percent. It slashed jobs at Kameyama and in October pledged the factories as collateral along with most of its other properties, including its headquarters in Osaka, to get 360 billion yen ($4.6 billion) in loans to stay afloat.
On Nov. 1, Sharp forecast a record 450 billion-yen loss for the fiscal year ending March 31, double its previous estimate, saying there's "material doubt" about its ability to survive. (Sharp removed those words from its English-language release on Nov. 5 but kept them in its Japanese announcement.) Its debt was quickly downgraded to junk by Fitch Ratings, and its shares fell, extending this year's decline to about 75 percent, making it the worst performer among more than 1,600 companies in the MSCI World Index of developed nations. Sharp failed to complete a deal for a 67 billion-yen investment from Taiwan's Foxconn Technology Group and has had difficulty selling commercial paper as it burns through cash. "Fitch does not foresee any meaningful operational turnaround in the company's core business over the short to medium term," the ratings company said after its Nov. 2 downgrade.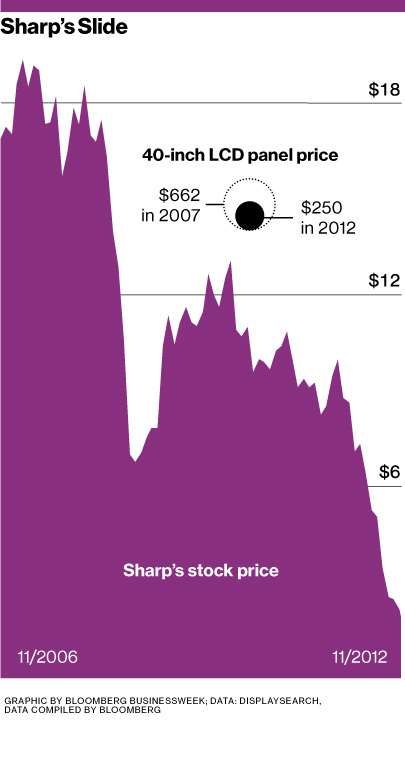 The company's turnaround plan includes seeking voluntary retirements from among its 55,216 employees, cutting salaries, selling assets, and reducing capital investment. Japan's largest maker of liquid-crystal displays also is considering several partnerships as talks with Foxconn continue. "We think time is running out for the company and believe an earnings rebound hinges on how quickly it can increase capacity utilization," Shunsuke Tsuchiya, a Credit Suisse Group analyst, wrote in a report.
Sharp's dire straits have fueled speculation that Japan's government will step in. With 200 billion yen of convertible bonds maturing in 2013, Sharp may have to ask a state-sponsored investment fund such as Enterprise Turnaround Initiative Corp. of Japan, or ETIC, for money, says Fumiaki Sato, co-founder of Sangyo Sosei Advisory, a turnaround advisory firm in Tokyo. A bailout of the company, which hemorrhaged 103 billion yen in cash from operations in the first half of the year, would follow the precedent set by the government rescue of Japan Airlines two years ago. ETIC invested 350 billion yen in JAL after the carrier filed the nation's biggest-ever bankruptcy of a nonfinancial company. "Japan has no other option but to help companies that need a bailout, given the possible impact to the economy," says Yuuki Sakurai, president of Fukoku Capital Management in Tokyo. "If Sharp fails, there will be a lot of job losses, including those at suppliers, and the impact of that can't be ignored." Some politicians aren't so sure. "It would only be proper to use public funds for a corporate bailout if there was a very thorough explanation for it," says Masahiko Shibayama, a Liberal Democratic Party legislator in Japan's Lower House. "I'm cautious because of the precedent it might set."
Sharp, Sony, and Panasonic—all big players in the shrinking market for TVs—had combined losses of more than $20 billion last year and are cutting tens of thousands of jobs. Having the most-advanced technology, once a strength of Japanese manufacturers, matters less as consumers pay more attention to content, apps, and user-friendliness. That shift has helped Apple become the preeminent consumer electronics brand. "Japanese companies innovated primarily on hardware and the device, and they were fantastic at that," says Peter Kenevan, a director at McKinsey Japan. "The problem is, the key engine of innovation in the world has shifted from hardware to software to systems to solutions."
Investors have taken note. Sony, Sharp, and Panasonic now have a combined market value of about $29 billion, compared with Sony's peak valuation of about $120 billion in 1999. Apple's market capitalization is $601 billion; Samsung's, $173 billion.
A heavy focus on the slow-growing Japanese consumer market has hurt the country's tech players. Last fiscal year, the domestic share of revenue was 53 percent at Panasonic, 48 percent at Sharp, and 32 percent at Sony. In contrast, both Samsung and Seoul-based LG Electronics get only about 17 percent of revenue in their home markets.
Japanese electronics makers have long been industry giants, but there are too many of them, diluting their individual strength, says Chang Sea-Jin, provost's chair in business policy at the National University of Singapore. Japan has nine TV makers, 10 mobile-phone makers, and 10 PC makers. "In Korea, we have only two: Samsung and LG," Chang says.
Before it's here, it's on the Bloomberg Terminal.
LEARN MORE