Recovers.org, a Marketplace for Disaster Relief
Recovers.org matches volunteers with people affected by disasters
By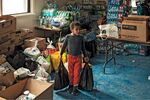 The morning after Hurricane Sandy tore through the East Coast, Caitria O'Neill awoke in San Francisco to find an e-mail from a friend trying to help people in the blacked-out, flooded Lower East Side of Manhattan. O'Neill, 23, set up lowereastside.recovers.org, a website where people could post information on what they needed or how others could help victims of the storm. That same day, after someone in a building in the area posted a request for food, water, and flashlights for 50 senior citizens who couldn't get down the stairs, 10 people responded with offers of aid. In a week, more than 5,600 people registered as volunteers.

O'Neill's startup, Recovers.org, has set up websites in four New York City boroughs to manage relief efforts and prevent the logistical chaos that often follows catastrophes when well-meaning volunteers overwhelm government officials and relief organizations. Before Sandy, the company, less than a year old, had tested the site in only a handful of communities, including Forney, Tex., and West Pasco County, Fla. Coordinating an operation in the aftermath of a major natural disaster is like "inventing the wheel as the vehicle is in motion," says Rebecca Williams, who organized aid for tornado survivors in Joplin, Mo., in 2011.
Recovers.org grew out of O'Neill's own experience: Her family's home in Monson, Mass., was wrecked by a tornado three days after her 2011 graduation from Harvard University. She and her sister Morgan spent the next two weeks coordinating the town's response, dispatching volunteers, and directing donations to people in need. "All of these resources were descending on our hometown, and people obviously needed them, but it was no one's job to structure them," Caitria says. The sisters used an ad hoc suite of Web tools including Facebook, Google Docs, and Google Voice to manage the response from a church.

The ordeal convinced the O'Neills that communities need to have disaster preparedness sites in place before calamity strikes. Neither had a software background—Caitria studied Soviet Russia in college, and Morgan is a physics Ph.D. candidate at Massachusetts Institute of Technology—but a Web developer in Morgan's poker group volunteered to build the Recovers.org prototype in April. The sites are designed "to be stupid easy," Caitria says. "You should not have to think. You should not have to have training."
Each community's home page displays emergency numbers, news and Twitter updates, and links to other relief sites. Visitors indicate either what they need or how they can help, offering skills such as electrical work, translation, or medical training, and equipment such as generators and trucks. Administrators can filter by keyword and category to see at a glance where the needs and assistance align. They can also post news updates, photos, and send e-mail blasts to volunteers, donors, and those requesting aid. Recovers.org gets volunteers to sign legal waivers in the event of injury and logs everyone's contact information, so once a match is made, coordinators can dispatch help immediately, sending someone with a pump to a building with a flooded basement, for example.

The goal is to let churches, community groups, and citizens organize people who want to help without waiting for the government or aid groups to do it. The grassroots nature of Recovers.org is part of its appeal. Volunteers from Occupy Wall Street helped set up the New York sites after the storm and established ties to neighborhood groups.

While the company hasn't charged for the sites set up after disasters, communities pay a subscription fee to create a Recovers.org site before an emergency. Both government and civic groups can take the lead. Pricing depends on the size of the town and the level of service; a city of 100,000 might pay $5,000 per year for the software, with additional cost for training and support.
Sites are now in the works for 25 communities. One of the company's first paying clients is a group called Prepared Neighborhoods on Bainbridge Island, Wash., near Seattle. Scott James, the group's founder, aims to catalog residents' contact information, special needs, and skills to help make the island more resilient in the event of an earthquake. "Emergency preparedness can get bogged down through a lot of red tape if you're trying to do it through official channels," he says. "If you're a citizen-led group you can go much, much faster."