Joseph Lhota on Fixing New York City Transit After Sandy
New York City's mass-transit chief on the race to fix a system that handles 8.5 million commuters a day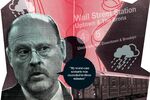 We thought originally that Sandy was going to arrive between 12 p.m. and 2 p.m. on Monday. It takes 12 hours to shut the transit system down, so we stopped it Sunday evening. Could we have gotten everybody into work on Monday? Yes, but we wouldn't have had a chance to get them home. I had to take that into account. There was some grumbling on Twitter about that decision—New Yorkers are very demanding, and they want all their services regardless of the weather.
The surge was far beyond anything I had expected. My worst-case scenario was exceeded in three minutes. The water from the Hudson River rushed into the Brooklyn Battery Tunnel at such a fast pace that there were whitewater rapids. The noise was disorienting. I immediately went back to the office and made everyone aware of what I saw.
Afterwards, I wanted to open the system as quickly as possible. New York's economy couldn't work if the MTA didn't exist; 8½ million people are in my hands every day. We realized we couldn't get people through seven underwater subway tunnels between Queens and Brooklyn into Manhattan—they were flooded. We looked at our assets and said, OK, what do we do? We used 330 of our buses to take people from Brooklyn to Manhattan. When we started that last Thursday, there was a lot of queueing, especially at the new Barclays Center. Everybody was congregating together. On Friday we took a page out of Disney's management of crowd control. In conjunction with the NYPD, we put up different walkways that go back and forth and zigzag. We put 3,700 people an hour onto buses. It was as close to a military-style operation as you could possibly imagine. By the way, the lost revenue that we're seeing? We'll be asking the Federal Emergency Management Agency to reimburse us for that.
I had to manage the expectations of the governor, the expectations of the people of New York, the expectations of the press. My style is to underpromise and overdeliver. I spent 15 years in investment banking. You can't get customers or clients if you're abrasive. Handling a crisis is similar to being a football player. You practice all week. You look at the books. You look at the plays. You figure out what you would do if this happens, what you would do if that happens. And then on game day, there are no "what ifs." — As told to Diane Brady
Before it's here, it's on the Bloomberg Terminal.
LEARN MORE